7 Things Kenyan Women Do When Drunk That Annoy Men
We all want to party and have fun, especially when the week is over and you just want to take a break from all the school or office work.
And one of those ways of unwinding is hooking up with your buddies or boyfriend/girlfriend for some few drinks before heading home. But now, when it comes to women, there happens to be a few annoying habits we have when we have had way too much to drink.
Whether you are with your partner, a male friend, a date or a just a colleague, it can look very disrespectful when you get drunk and do some things that can get a man very offended and annoyed with you.
Well, here are 7 things that Kenyan women do when they are very tipsy or drunk that annoy men. Check them out below.
1. Puking/Vomiting Recklessly
Ladies, I know when vomit comes it's hard to hold back, but for crying out loud, if you have that feeling that you may throw up, go to the ladies lavatories just to avoid a big mess. It's so embarrassing for the dude you accompanied if you just carelessly puke on the table, chairs or counters in the clubs, especially if his friends are around. And then, if you can't handle too much alcohol, just drink enough or don't drink at all.
2. Shouting Out Loud When Your Favourite Song Plays
So when your favourite Beyonce song plays, you scream out so loud that you can still be heard even with the ear-deafening sound from the club speakers. Wow, trust me, it makes you look like a maniac and the worse part is; everyone knows your drunk, so they expect the guy you are with to be the one to control you. Not fun for the man, at all!
3. Spilling Drinks On Other People While Dancing
When some women get drunk, they tend to dance more and show some killer moves, but it can get really annoying when you insist on doing so with a drink in your hands. If you decide to do a bend over with a glass of wine or glass of whisky, it will definitely pour on other people, especially if it's crowded. Some ladies can't even hold their glasses tightly when high and they end up spilling alcohol on themselves or others.
4. Leaving Your Table Every Minute
Some ladies cannot settle down when high, they just want to keep moving from one table to another, in the name of saying hi to some friends or workmates she has spotted. If they see a friend on the next table, they don't hesitate to go there and get comfortable, even start to dance with them and drinking their alcohol. Others even disappear for hours, and maybe they left their handbags and phone with the guy.
5. Allowing Every Man To Flirt With You
Yes, as much as this sounds wrong, it does happen. When some lasses get drunk, they tend to loosen up way too much, to the extent that they allow men in the club to flirt with them, forgetting that she is with another man. It can even come out as disrespect and don't be shocked if a man throws some tantrums because of this. If you want to flirt randomly with men in a club, come with your girls alone. Simple!
6. Knocking Other People's Tables Or Drinks
There are some ladies who become very unstable when drunk and end-up knocking other people's drinks or table while dancing or just walking by. It can get really embarrassing for a man especially if some glasses break in the process or someone gets soaked in alcohol all over because of you can't handle your alcohol intake.
7. Being Too Ratchet
Well, one of my male friends told me how he gets annoyed when a lady gets high and becomes ratchet and engages in some behaviour like; dirty dancing with random men, drinking too much alcohol like a man, sitting carelessly with your legs wide apart yet you are in a dress/skirt and even others allowing men to touch their butts or boobs.
Comments
comments
Breakthrough as Ohangla star, Lady Maureen is taken in by family after mother´s rejection
At last, Ohangla singer, Lady Maureen has found solace in her maternal cousin´s home after her mother did not want anything to do with the singer.
Fredrick Odhiambo, Lady Maureen´s maternal cousin is said to have picked her up from Jaramogi Oginga Odinga Teaching and Referral Hospital after news of her homelessness reached him.
He stated:
She is family and this is the time she needs us more than ever.
Fred, who resides at Pap Onditi, Kisumu revealed that the popular musician heaved a sigh of relief after he came to her rescue.
However, Fred divulged that Maureen´s mother had called him and warned him against helping the recuperating singer.
All in all, he aired:
We are all glad that Lady Maureen is here with us and plans are already underway to have a house built for her so she can have a place of her own.
Akothee
Kenyan philanthropist and business woman, Akothee is the reason why Lady Maureen has been able to recover after rushing her to the teaching and referral hospital for medical attention.
Not that Maureen is out of the facility, Akothee has revealed that her uncle will be giving her land, to build a home of her own.
Had communication with MOURINEs Family ,and she is at her uncles place, who has accepted to give her a piece of land to build a home for her/ mother , my mother will be going to PAP ONDITI ON OUR BEHALF to tell us what's on the ground 🙏🏾🙏🏾, my health is not like before that I could jump left right 💪,
Fundraiser
Further announcing that a fundraiser will be done to assist the singer with her various needs.
can we schedule our fundraiser for LADY MOURINE FROM 9.00 PM TOMMOROW NIGHT ?
I will drop the flayer at 9.00 pm Thursday , and let it run until Monday, 10,00 am , and announce, or post how much was collected. It's a one off collection to avoid mischief and people coming up with stories, SUPPORT A WOMAN AND SAVE THE VILLAGE.
We are doing this as #teamakothee #teampositivity
Despite her affluence, the black beauty admitted she cannot give the Ohangla singer any properties because they are not related.
I could give land to her too, but I am not her relative, and no one will be there to take care of her ,so she is safe amidst her relatives💪💪 Be blessed as we look forward to support a woman 🙏🏾🙏🏾
Identifying himself as a close friend to Maureen, Hon Mike Peter Sirkal disclosed on Facebook, that a paybill number had been put up, to be able to support Lady Maureen before she fully gets back on her two feet.
We have acquired a pay bill number to help lady settle her life as an outpatient. As we speak, lady is in pap Onditi Nyakach.
The Queen of Ohangla was discharged from the hospital on Thursday, the 20th of February but remained stranded until Tuesday, the 25th of February (5 days later) when her cousin picked her up.
Comments
comments
FKF Splits Women Premier League Into Two Zones
Comments
comments
The Lustful Girl Who Turns Out to be Someone's Wife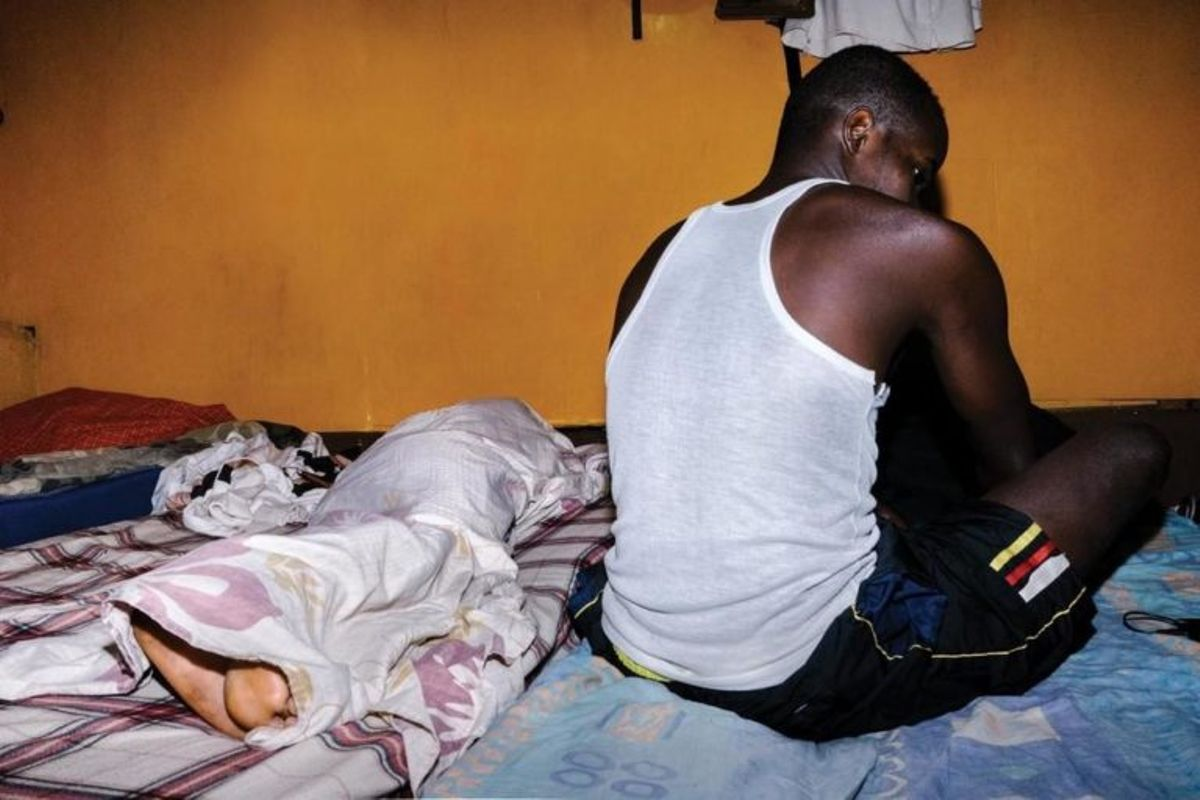 "It's too cold, I wish you were here…." Few men have been able to resist the power of such texts from women. CEOs have suddenly left high profile meetings because of such; army generals have left the battlefields because of such.
What of a mere
youth with no recognized social status? Receiving such a text from Cindy made
my brain take a temporary lockdown down and my libido took control.
Cindy was a girl I had just met on Tinder dating app. Going by her profile, she was 21 years old and light-skinned or what is commonly referred to as yellow-yellow. I was convinced, by the pictures she uploaded that she was exceptionally beautiful.
Apparently, after we got conned the first time we went online in search of white girlfriends, Josiah and I swore never again to attempt anything online apart from school assignments. However, some, habits were harder to stop than it was easier to swear.
I had a fake bio on my profile; portraying a moneyed gentleman, settled and only in search of a lady to cap it all.  With such an exaggerated profile – pictures of me in suits photoshopped besides flashy automobiles – I  thought it best not to look for girls around my area who possibly knew me or could easily bump into me while I crawled into some kibanda to eat my usual chapati madondo.
Cindy was fast with her replies and even more eager for a meeting. I gathered that she stayed in some one-bedroom house in Kayole
"Are you
coming?" Another text came in.
My blood rushed. I immediately abandoned my school assignment and preparations for a CAT coming up the following week. It was around 5pm in the evening. I had also never been to Kayole. I decided to persuade Josiah into accompanying me with the allure that  Cindy had her other friend who would be saved from boredom by Josiah's company.
My main objective, however, in seeking Josiah to tag along, was for security reasons, path-finding and, most importantly, to have an easier excuse out in case the girl was not what her pictures said. He was reluctant to go until we discussed his commission; he called it emergency task allowance. But as soon as we settled at the house I had planned to kick out Josiah before beginning my nation-building task.
 It was around 7pm when we got to Kayole. Cindy
came for us at the stage. My 'car' apparently was at the mechanic.
The path to her place was obscured with lots of meandering. I barely could remember the paths we had used.  Being the gentlemen that I pretended to be, I had bought a kilo of meat that Cindy had just put to boil as she prepared our supper.
She was looking at Josiah strangely, wondering why I tagged him along, but through a whisper, I managed to convince her that he was just my PA who would leave immediately after the meal. Even as she cooked, Cindy kept going in and out of the house and rather suspicious.
While eating and
sitting very comfortably as if we owned the house, the door was roughly pushed
open. Three men entered calmly. I have never been the kind to judge anyone by
the looks, but at that moment I could tell that none of those three men knew a
word such as 'peace'.
"Mercy, hawa wanaume ni kina nani, (who
are these men)?" The first one angrily asked Cindy while scrutinizing us
in a very keen manner.
Cindy who was now
Mercy had started to talk but was immediately interrupted by the third man who
had  a club in his right hand.
"Mnajua huyu ni bibi ya wenyewe?" (Do you know this is somebody's  wife?) He asked while his eyes, red in colour, searched me with evident malice.
Left on my own
I was shaking and sweating terribly. The piece of meat I had slipped out of the trembling hand and dropped to the floor. Josiah, despite the evident fear, and his lips trembling as if he was naked in a cold winter season, began to speak in an effort to save himself.
"Mimi hata sijui huyu msichana, ni huyu aliniambia nimlete," he stammered while pointing at me.
"We macho ine,
what are you doing in my house with my wife?" The guy holding the club
demanded while moving towards me threateningly. He looked like he had fought in
the first and second world wars and was still ambitious enough to fight in a
third one. I could smell the strong odour of bhang all over him.
My body went numb.
I tried to talk but only ended up stammering. Cindy was not talking. She only
stared as if she was not part of what was happening.
The thought that
news could spread and, worse, my photos in a vest, caught in such a
circumstance was unimaginable. I had to find a way out. I remembered God but
was quickly ashamed that I had forgotten him for a very long time.  I remembered 
Isaiah 41:10, " Fear not, I am with you…" But my trembling
only intensified.
"Wee Dan, waambie mimi siko. It's you who brought me here," Josiah blurted.
As I stammered and
trembled with an apology and an incoherent explanation, one very hard slap found
a rough landing on my cheek. The ruthless owner of the slap then demanded that
we deposit what was in our pockets or suffer the consequence of their anger and
thirst to kill.
Josiah only had a
cheap phone and one hundred shillings in his pocket. This invited more thorough
slaps on his cheeks. I had only six hundred shillings and an old Samsung phone.
They were infuriated to discover we had nothing of value. Nothing that was
worth the magnitude of the crime we had committed.
"Brathe, nikifungua macho, sitaki kuwaona ha…"  Before the words were fully out, I had jumped to the door and collided with Josiah who had instinctively done so, too. Managing to secure only my left shoe I blindly bolted into the darkness after Josiah who was agile enough to rise up fast after the collision at the door.
Dan Kutiri is a creative writer and a content creator. He can be reached through email at: [email protected]
Comments
comments