Chaos in Murang'a church as Tangatanga, Kieleweke clash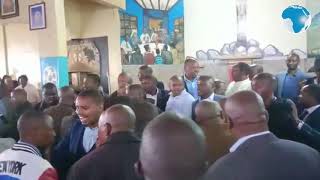 A church fundraiser has turned chaotic at Gitui Catholic Church in Murang'a County after Kiharu MP Ndindi Nyoro stormed in and vowed to preside over the ceremony which was attended by Jubilee Party leaders affiliated to the Kieleweke faction.
Mr Nyoro belongs to the Tangatanga faction which roots for Deputy President William Ruto's 2022 presidential bid.
The Kiharu MP arrived late for the Sunday function after the over 20 members allied to Kieleweke had taken their seats.
He found nominated MP Maina Kamanda introducing his team and waited for his turn.
But when he took over the microphone, Mr Nyoro said he was the area MP and hence would be the one to invite the guests to speak, a move that was objected to by Mr Kamanda.
The MP castigated Mr Kamanda, maintaining that he would not leave the podium.
"I can't allow people from Nairobi to come and take over my constituency as if they know this area. I am an elected leader and I tell Mr Kamanda to his face that let them produce the list of the guests so that I can invite them," Mr Nyoro maintained.
At this point, Mr Kamanda stood up prompting County Police Commander Josephat Kinyua to move to the podium where Mr Nyoro.
Chaos then erupted as Mr Nyoro's supporters, who thought he was being arrested, rushed to his side and the church became unruly for about ten minutes.
Church leaders desperately tried to calm the chaotic congregation.
The priest in charge, Fr John Kibuuru, tried to calm the situation but the congregation was divided between Mr Nyoro and Mr Kamanda and his team.
"I urge you in the name of God to be orderly. It has never reached this situation and I plead with you to maintain calm," Fr Kibuuru pleaded.
Calm was restored after about 10 minutes.
Those who supported Mr Kamanda said it was the Kieleweke team who had been invited and not Mr Nyoro and that the Kiharu MP had no moral authority to preside over the event.
"Mr Nyoro was not even invited to the event. He gate-crashed and came late but he wants to take over the event. We blame him for the fracas," Mr George Kamande said.
But Mr Nyoro's supporters maintained that whether or not the MP was invited, he was the area's MP and must be accorded the respect his deserves and be allowed to invite the leaders to speak.
After calm was restored, Mr Kamanda took over and presided over the ceremony without any speeches being made.
"I was invited to be the chief guest. We shall do the harambee but we shall address the locals outside the church," Mr Kamanda said.
Fr Kibuuru condemned the fracas.
Mr Kamamnda gave his donation of Sh500,000 and a Sh1 million contribution from President Uhuru Kenyatta. He also presented Sh200,000 from Transport CS James Macharia.
Just get married, fans tell Lupita Nyong'o and Trevor Noah – Nairobi News
Lupita Nyong'o's and her The Daily Show host "BFF" Trevor Noah has left fans with more questions than answers after Lupita shared captivating photos of the duo on her Twitter and Instagram pages.
Based on the photos Lupita posted on December 12, captioned "BFF (Best Friends Forever) tings on the Daily Show Tonight" on her twitter page, their fans are reading and demanding more from the stars.
BFF tings on the #DailyShow tonight. @Trevornoah pic.twitter.com/AZsXQBybqc

— Lupita Nyong'o (@Lupita_Nyongo) December 12, 2019
Their fans are suggesting they consider getting married and hinting at how cute a couple they would make.
Can't you guys make it official already, we already know pic.twitter.com/Sy0gqi9bYp

— Thabo (@ThaboMohoba) December 12, 2019
We can tell… pic.twitter.com/H0LQHmmDeU

— Mugo (@Writivist) December 12, 2019
— sarafina (@StaleFufu) December 12, 2019
Ain't nuffin bff-ey about what I'm seeing. But if you say so… pic.twitter.com/exvEhWxdEP

— #ScandalAfterGlow❤ (@awesomeonica) December 12, 2019
Fans of Lupita and Noah have been following the social lives of the two celebrities closely and noticed that in November Trevor posted a TBT celebrating his friend Lupita with a cute message:
"When I look back on my favorite moments the smiles will without a doubt be from the friends that were there at each milestone along the way. Throwback to me and my dear friend @lupitanyongo backstage at my MSG show," he posted on twitter.
When I look back on my favorite moments the smiles will without a doubt be from the friends that were there at each milestone along the way. Throwback to me and my dear friend @lupitanyongo backstage at my MSG show. pic.twitter.com/bZ59J3b9zM

— Trevor Noah (@Trevornoah) November 26, 2019
Even then their fans didn't let them get away with it easily:
Make a baby together

— Thanos is right (@thaboselepe3) November 26, 2019
Just date already you two! The motherland is proud!

— •Hello Mr. Mulenga•🦁™ (@iam_mulenga) November 26, 2019
Y'all need to go ahead and make it official! pic.twitter.com/P8t5tbI4BT

— Qlamadre (@laquannta) November 26, 2019
Lupita was on The Daily Show, speaking about her role in the Star Wars: The Rise of Skywalker ahead of the release of the science fiction film where Lupita plays the character of Maz Kanata.
The Award Winning actress this week bagged another prestigious award following her role in an American horror film Us and was declared the best actress in the film released on March 22, 2019.
In the movie, she plays the role of Adelaide Wilson, a woman whose family is attacked by scary ghost-like characters resembling real people.
Lupita, who is the daughter of Kisumu governor Prof. Anyang' Nyong'o, has been a sensation since she won the 2014 Oscar Awards for the Best Supporting Actress in the film 12 Years a Slave.
Kenyan Woman Narrates Her Miserable Stay as a Househelp in Saudi Arabia
A Kenyan woman has narrated the suffering she went through during her short-lived stay in Saudi Arabia, where she worked as a house help.
Lydia Mutua was hooked up with a Saudia employer by a Nairobi-based recruitment agency after paying up Sh60,000 as processing fee and an additional medical fee of Sh5,000. Although she admits she was aware of previous reports of Kenyan domestic workers being tortured in Saudi Arabia by their employers, she says she was desperate to earn good money.
"I had heard that people could make good money working for rich families in Saudia, so I wanted to have that connection as well."
"I could not imagine that I could be pocketing a cool Sh80,000 per month. Even if I managed to work for six months, the money could be enough for me to start a business," revealed Lydia.
Life in Saudi Arabia turned out to be the complete opposite of what she had expected as she was forced to work for at least 18 hours in a day and sleeping for only two hours. Further to this, her employer gave her little and sometimes no food as well as physically beating her and slashing her salary over small mistakes.
"Woe unto you if you make an error while performing these duties because you will be subjected to physical abuse or your salary deducted."
After two months of working as a house girl, where she did all house chores and even gardening, she threw in the towel and decided to return home. "After working for two months for a middle-class business family in Sakaka, which is about 1,200 kilometers from the capital Riyadh, I decided that there was no way I could stay there and watch myself die," she told Ureport.
"I decided to request for help from my parents back in Kenya who sent me money for transport after which I jetted back."
Lydia, who currently lives in Mlolongo, says she can never return to Saudi Arabia to work as a house help and can only accept a job offer from a well-established company.
"Unless I am going for a company job, there is no way I will go back there with what I experienced," she noted.
 
#WanjingaNyinyi: Rapper King Kaka's New Song Calling Out Kenyan Leaders, Voters Goes Viral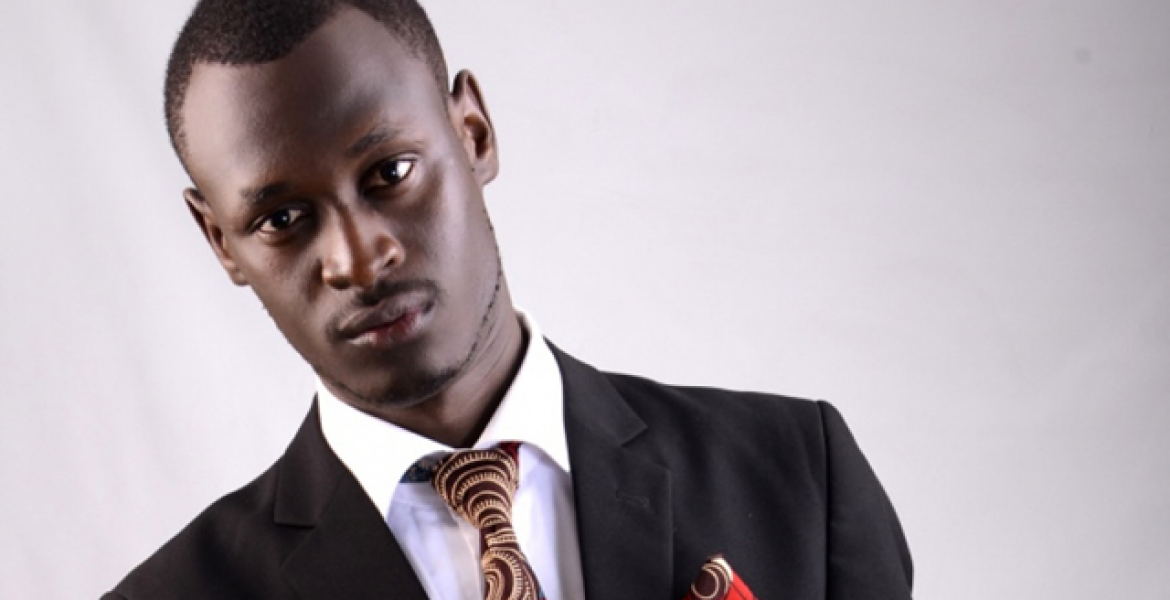 A new poetic song by Kenyan rapper King Kaka, born Kevin Ombima, has gone viral hours after it was released on Saturday.
In the hard-hitting song dubbed 'Wajinga Nyinyi', Kaka calls out the Kenyan electorate for voting in selfish, scandalous and deceitful leaders. He says voters' poor choices are to blame for the economic hardship Kenyans are experiencing at the moment.
"Sisi ni vipofu na viziwi…na tunajua translator wetu alishadedi.2022 already si mnajua nani ni Prezzi… si mnajua nyinyi voters ni washenzi… So, unashangaa akili zenu time ya kura zinajaa shonde," he recites.
"Welcome to our country where politicians wana ujinga za kila aina. Economy imekuwa hard hakuna kitu ya kuteremsha chai… I support teachers' [and] doctors' strikes," he adds.
In just 10 hours after release, the song had garnered over 100,000 views on YouTube with Kenyans on social media hailing him for being bravely telling the truth. Activist Boniface Mwangi, deported lawyer Miguna Miguna, and Kenya Film Classification Board (KFCB) CEO Ezekiel Mutua, among others, hailed Kaka, 32, for the song.
But on Saturday evening, Kaka took to social media to announce he was in the process of pulling down the song on YouTube, suggesting that he had received some threats.
"#WajingaNyinyi at this rate, I think I need protection. If worse comes to worse, mkuje police station," he tweeted.
Watch the video here; https://www.youtube.com/watch?v=WIuMZmagvUk