Daddy's gal! Photos of Kobe Bryant and daughter Gigi who died in a helicopter crash
Gianna 'Gigi' Bryant, tragically passed away alongside her father Kobe Bryant in a helicopter crash in Calabasas on Sunday night.
Gigi, 13, like her father, loved the game. The two were heading to Kobe's Mamba Academy for practice. Her father fondly branded her Mambacita.
After his 2016 retirement, Kobe took on the role coach of his daughter's team "The Mambas".
In a past interview on "All The Smoke" podcast, Kobe fondly discussed GiGi's love for the game.
He told hosts Matt Barnes and Stephen Jackson: "You know what's funny, So before Gigi got into basketball I hardly watched it, but now that's she's into basketball, we watch every night."
"And I mean every game," he then emphasised, before adding that "she watches everything," on NBA League Pass.
Then asked by the hosts who her favourite players were, Kobe replied: "She likes watching Trae Young a lot, she watched Luka Doncic a lot, she watches James Harden, she watches Russell Westbrook, I mean she watches Bron [LeBron James]."
Here are beautiful moments of Kobe with his daughter Gigi before their passing on.
Comments
comments
FKF Splits Women Premier League Into Two Zones
Comments
comments
The Lustful Girl Who Turns Out to be Someone's Wife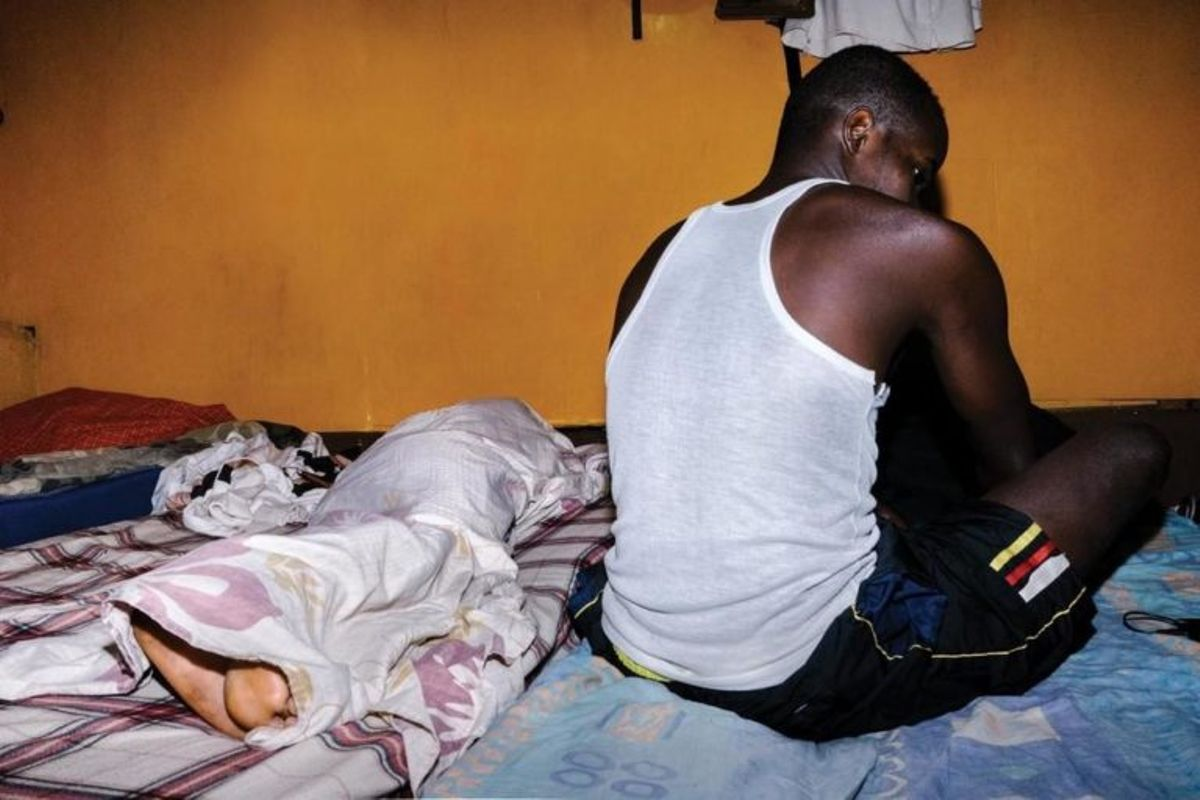 "It's too cold, I wish you were here…." Few men have been able to resist the power of such texts from women. CEOs have suddenly left high profile meetings because of such; army generals have left the battlefields because of such.
What of a mere
youth with no recognized social status? Receiving such a text from Cindy made
my brain take a temporary lockdown down and my libido took control.
Cindy was a girl I had just met on Tinder dating app. Going by her profile, she was 21 years old and light-skinned or what is commonly referred to as yellow-yellow. I was convinced, by the pictures she uploaded that she was exceptionally beautiful.
Apparently, after we got conned the first time we went online in search of white girlfriends, Josiah and I swore never again to attempt anything online apart from school assignments. However, some, habits were harder to stop than it was easier to swear.
I had a fake bio on my profile; portraying a moneyed gentleman, settled and only in search of a lady to cap it all.  With such an exaggerated profile – pictures of me in suits photoshopped besides flashy automobiles – I  thought it best not to look for girls around my area who possibly knew me or could easily bump into me while I crawled into some kibanda to eat my usual chapati madondo.
Cindy was fast with her replies and even more eager for a meeting. I gathered that she stayed in some one-bedroom house in Kayole
"Are you
coming?" Another text came in.
My blood rushed. I immediately abandoned my school assignment and preparations for a CAT coming up the following week. It was around 5pm in the evening. I had also never been to Kayole. I decided to persuade Josiah into accompanying me with the allure that  Cindy had her other friend who would be saved from boredom by Josiah's company.
My main objective, however, in seeking Josiah to tag along, was for security reasons, path-finding and, most importantly, to have an easier excuse out in case the girl was not what her pictures said. He was reluctant to go until we discussed his commission; he called it emergency task allowance. But as soon as we settled at the house I had planned to kick out Josiah before beginning my nation-building task.
 It was around 7pm when we got to Kayole. Cindy
came for us at the stage. My 'car' apparently was at the mechanic.
The path to her place was obscured with lots of meandering. I barely could remember the paths we had used.  Being the gentlemen that I pretended to be, I had bought a kilo of meat that Cindy had just put to boil as she prepared our supper.
She was looking at Josiah strangely, wondering why I tagged him along, but through a whisper, I managed to convince her that he was just my PA who would leave immediately after the meal. Even as she cooked, Cindy kept going in and out of the house and rather suspicious.
While eating and
sitting very comfortably as if we owned the house, the door was roughly pushed
open. Three men entered calmly. I have never been the kind to judge anyone by
the looks, but at that moment I could tell that none of those three men knew a
word such as 'peace'.
"Mercy, hawa wanaume ni kina nani, (who
are these men)?" The first one angrily asked Cindy while scrutinizing us
in a very keen manner.
Cindy who was now
Mercy had started to talk but was immediately interrupted by the third man who
had  a club in his right hand.
"Mnajua huyu ni bibi ya wenyewe?" (Do you know this is somebody's  wife?) He asked while his eyes, red in colour, searched me with evident malice.
Left on my own
I was shaking and sweating terribly. The piece of meat I had slipped out of the trembling hand and dropped to the floor. Josiah, despite the evident fear, and his lips trembling as if he was naked in a cold winter season, began to speak in an effort to save himself.
"Mimi hata sijui huyu msichana, ni huyu aliniambia nimlete," he stammered while pointing at me.
"We macho ine,
what are you doing in my house with my wife?" The guy holding the club
demanded while moving towards me threateningly. He looked like he had fought in
the first and second world wars and was still ambitious enough to fight in a
third one. I could smell the strong odour of bhang all over him.
My body went numb.
I tried to talk but only ended up stammering. Cindy was not talking. She only
stared as if she was not part of what was happening.
The thought that
news could spread and, worse, my photos in a vest, caught in such a
circumstance was unimaginable. I had to find a way out. I remembered God but
was quickly ashamed that I had forgotten him for a very long time.  I remembered 
Isaiah 41:10, " Fear not, I am with you…" But my trembling
only intensified.
"Wee Dan, waambie mimi siko. It's you who brought me here," Josiah blurted.
As I stammered and
trembled with an apology and an incoherent explanation, one very hard slap found
a rough landing on my cheek. The ruthless owner of the slap then demanded that
we deposit what was in our pockets or suffer the consequence of their anger and
thirst to kill.
Josiah only had a
cheap phone and one hundred shillings in his pocket. This invited more thorough
slaps on his cheeks. I had only six hundred shillings and an old Samsung phone.
They were infuriated to discover we had nothing of value. Nothing that was
worth the magnitude of the crime we had committed.
"Brathe, nikifungua macho, sitaki kuwaona ha…"  Before the words were fully out, I had jumped to the door and collided with Josiah who had instinctively done so, too. Managing to secure only my left shoe I blindly bolted into the darkness after Josiah who was agile enough to rise up fast after the collision at the door.
Dan Kutiri is a creative writer and a content creator. He can be reached through email at: [email protected]
Comments
comments
Effects of over-parenting – Evewoman
As parents, you need to love and treat your children the best. Why? Because this is an essential part of their development and it has the power to shape their esteem and outlook on life.
It's obvious that loving your kids is important but, could there be some consequences of showing too much love?
Don't get me wrong. We're talking about not disciplining children, always giving them what they want and babying them too much.
Surprising as it may sound, numerous studies show that there is such a thing as too much parenting and it does have its consequences.
Should you be guilty of this, accept your faults and take notes. Otherwise you will have unnecessary turmoil in the future that could have been easily nipped at the bud.
Below are the effects of over-parenting.
i. Kids with no respect
Over parenting can distort the relationship between you and your kids. And sadly, it has everything to do with the parents. Avoid calling your children 'best friend' and take up the role of a mother or father. If you don't, you will soon have to contend with a 10-year-old who talks back at you with zero regard for your authority as a parent. Some kids even go as far as insulting their parents directly and disrespecting them in public. This is why you need set ground rules and assert your dominance as a parent.
ii. Entitlement
Over-parenting can lead to spoilt kids. These are the children that get what they want, when they want, by any means. They're used to having their way so when they don't get what they want all hell breaks loose. Entitled kids grow up assuming that everything is given on a silver platter which isn't how life works. If you don't train your kids early, they might end up expecting everything to be handed to them automatically.
iii. Distorted sense of reality
It's possible to go overboard by showing your kids too much love. When this happens, children end up having a distorted sense of reality. They become used to being the centre of attention and expect everything to work out in their favour because according to them, everyone else needs to adjust what they're doing or how they feel, in order to make them happy. Since their parents treated them like royalty, the assumption is that the world should treat them the same way.
iv. Poor relationships
Unfortunately, most over-parented kids don't have many genuine friends, if any. This is because they might lack the key pillars needed in a normal relationship like empathy, generosity and other essential characteristics that attract good friends. They might come off as selfish, unfriendly and narcissistic, which eventually drives people away.
v. Resentment towards parents
This is another long term effect of over-parenting kids. When they grow up and understand how the world works, they might actually turn against their parents and blame them for not being stricter with them. Although strict parents aren't fun, they're usually thanked by their kids once they understand the reason behind it. Discipline your children and they will thank you later. It really does boil down to, spare the rod and spoil the child.
For More of This Stories Subscribe to the Standard Epaper to get a copy of Eve Woman in the Standard
Do not miss out on the latest news. Join the Eve Digital Telegram channel HERE.
Comments
comments