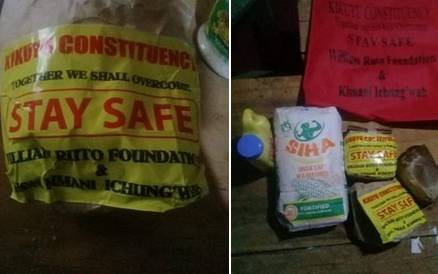 The alleged poisonous food supplies which were distributed in Kikuyu, Kiambu County. [Image: Courtesy]
CentralArea MP Kimani Ichung'wah has, however, distanced himself from the distribution which he linked to the infighting in the ruling Jubilee Party.
An unknown number of people were reportedly affected after consuming relief food that was distributed in Gikambura, Kikuyu Constituency, Kiambu County, on Sunday.
The food, which was branded as originating from the William Ruto Foundation and Kimani Ichung'wah, also had labels reading "Stay Safe".
Ichung'wah, who is the area MP, has, however, distanced himself from the distribution which he linked to the infighting in the ruling Jubilee Party.
The affected were reportedly treated at Rithigiru Health Centre in Gikambura.
SEE ALSO: Developing: The mystery of harmful Covid-19 relief food in Kiambu
Kiambu Governor James Nyoro is scheduled to address the press on the matter in due cause.
"These are not our foodstuffs and we are not distributing anything openly and on vehicles on roads or stadiums and even the fake branding and items are not anything close to what we are distributing," the MP said.
He added all their interventions are done through known church leaders and from an identified list of beneficiaries identified by religious and community leaders.
In a Facebook post, Ichung'wah said he had received reports that some of the people who consumed the food in Gikambura had been treated.
"A family that consumed the sugar suspect it was poisonous as two of them have been treated after consuming it," he said in his warning to locals.
SEE ALSO: F1 drivers fully support 'ghost races
"Inform all your neighbours. Any support from our office will be delivered to your houses by your known neighbours and church leaders."
The distribution comes a week after he accompanied DP Ruto in distributing food supplies in his Kikuyu Constituency.
The food distributed on Sunday is in packages similar to the ones used by the two politicians last week.
Ichung'wah had on Sunday afternoon joined the religious leaders as handed over food packs for families identified by local leaders in Karai Ward.
"We also inspected ongoing completion works of the Musa Gitau PCEA Cathedral. We join the Church in the calls to reopen our places of worship. Kenya needs more and more prayers more than ever before," he said.
SEE ALSO: Stressed nation: Anxiety takes toll on Kenyans as pandemic bites
xxx
The Ruto Foundation has distanced itself from the donation.
A statement signed by David Mugonyi, the  Secretary Communications, in the Office of the Deputy President said: "The William Ruto Foundation would like to categorically and unequivocally distance itself from the distribution of relief food that has affected residents of Kikuyu Constituency. The donations in question are NOT from the William Ruto Foundation. 
Ichung'wah has been faulted for ignoring government directive to include local and national administration in distributing such food to the needy. This is aimed at ensuring general safety for the food and beneficiaries.
Police in the area said they had been informed of the distribution of food suspected to be poisonous and investigations into the same had been launched.
The Interior Ministry has asked those willing to offer support to channel it through the Kenya Covid-19 Emergency Response Fund, in Nairobi, and the offices of governors and county commissioners in counties.
The government made the decision after a breach of social distancing guidelines as set out by the Ministry of Health and the resultant disorder.
"Any donors and well-wishers who would like to contribute to the coronavirus response actions in Nairobi are asked to channel or co-ordinate their contributions through the Kenya Covid-19 Emergency Response Fund."