Esther Passaris laughs off claims of dating Mike Sonko, says he's not her type ▷ Kenya News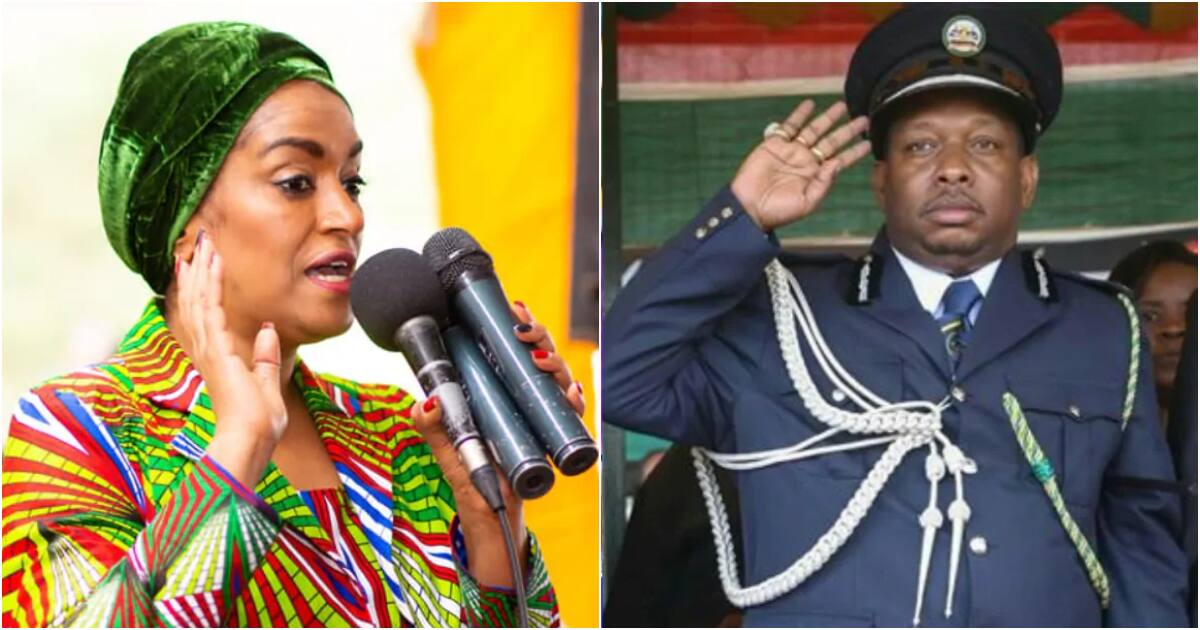 – Passaris said there are men she can go for and not Sonko
– According to the woman rep, the Nairobi governor was just scared she could take his gubernatorial seat hence the malice
– She claimed she cannot sleep with Sonko as it could be an uphill task owing to his many rings, necklaces, belts and rastas which needs to be removed during copulation
Nairobi county Woman Representative Esther Passaris has strongly distanced herself from claims that she wanted to bed Nairobi governor Mike Sonko.
According to the politician, Mike Sonko is not her type and she can never wish to have him as her lover.
READ ALSO: Gospel DJ GG Activist, wife welcome bouncing baby boy
READ ALSO: Nyeri man who claims to be 135 celebrates birthday
Speaking during a Nairobi women's meeting organised by Dagoretti North MP Simba Arati, the Nairobi MP said there were many good men she could date and not Sonko as he was total turn off.
For starters, she stated she can never sleep with Sonko because it takes a lot of energy and work to do so.
The Women Rep held that a woman can even get bored and turned off trying to remove his 'blings'
The governor is known for doning heavy metallic necklaces and rings.
READ ALSO: William Ruto donates over 30 motorcycles to Turkana youths
"I even wonder, how do you sleep with a man like him? By the time you are done with removing his rings, necklaces, belts, rastas, caps, the mood would have disappeared. We should all stop playing, women are serious people," Passaris said.
She added there were better men she can go out with and not the governor.
The attractive politician claimed Sonko only tarnished her name and claimed she wanted him by force because he was afraid of competition and fears she can take the gubernatorial seat.
"People should stop fearing that some of us want their seats. Just like this governor who got scared when people suggested I should be the governor because of my track record.
He got scared and he started insulting me. How can I sleep with him? Aren't there enough men to sleep with. If I could not sleep with this good looking man here (Arati), will I sleep with him (Sonko)?" she posed.
READ ALSO: Akothee: Nampenda Jalango sana lakini siwezi kubali kuwa mke wake
Passaris's statement came just months after Sonko sensationally claimed the woman politician wanted him to be her lover by force.
As reported by TUKO.co.ke earlier, he shared a recording of a phone call in which a woman on the other end wanted to bed him for some favours.
According to the governor, the woman was Passaris who wanted some monetary favours and was willing to offer her cookie for the same.
She, however, shut down the governor's claims adding the voice was edited to set her up.
Do you have a groundbreaking story you would like us to publish? Please reach us through news@tuko.co.ke or WhatsApp: 0732482690. Contact Tuko.co.ke iinstantly.
Class 8 leaver who earns over 100,000 shillings in a day – TUKO TV
Source: Tuko
Comments
comments
Unga Group halves profit : The Standard
Unga Group net profit halved for the six months period ending December 31, 2019 compared to a similar period in 2018.
Unga Group registered a profit of Sh151 million in the period, down from Sh306 million in 2018.
This drop was attributed to reduced volumes in the animal nutrition segment and increased cost of wheat and maize grains. The low production and inflated costs were caused by unfavourable weather conditions in the year.
In 2019, rains came late in the year, in volumes that left a trail of destruction. Unga Group's profit before tax grossed Sh219 million, down from Sh437 million in 2018.
Revenue, however, increased by 11 per cent, from Sh9 to Sh10 billion, helped by the human nutrition business.
Unga feels that the main challenges that affected the industry in 2019 might persist.
"The continued low consumer demand, coupled with excess production capacity, aggressive finished product pricing across the industry and restricted maize grain supply will remain a challenge. The board and management will continue to work on strategies to deliver improved performance," read the report.
For More of This and Other Stories, Grab Your Copy of the Standard Newspaper.  

Do not miss out on the latest news. Join the Standard Digital Telegram channel HERE.
Related Topics
Comments
comments
Kenya Airways back at Treasury for Sh5b bailout : The Standard
Kenya Airways has gone back to the government for a bailout. The airline said it has secured a Sh5 billion commercial loan from the National Treasury to service some of its aircraft engines and streamline operations.
At the same time, the listed loss-making national carrier announced looming changes in its operations and corporate structure. The looming shake-up comes a day after the appointment of Allan Kilavuka as chief executive to replace Sebastian Mikosz, the Polish expat unable to turnaround the airline and left before his first term in office lapsed.
In a disclosure to the Nairobi Securities Exchange, KQ Chairman Michael Joseph said the loan, acquired on Wednesday, was intended to complete an engine overhaul of its Embraer 190, its largest fleet and also boost working capital.
SEE ALSO :KQ Board appoints acting Chief Executive Officer
The cash injection will cater for the overhaul of 11 Embraer engines which is required every eight years in order to uphold high levels of safety and maintain reliability and planned network schedules.
"As an airline, we need to be efficient across our operations but more importantly across our fleet. The Embraer fleet is our largest and is the networks' workhorse. We also plan on undertaking refurbishments on our two Boeing 737-700 aircraft. The airline commits to prudent utilisation of the funds to ensure value for money," said Joseph.
The new loan adds to the numerous instances where the government has come to the aid of the airline. Last year, Treasury said it had forgiven a Sh24 billion debt the airline had taken over the previous three years.
For More of This and Other Stories, Grab Your Copy of the Standard Newspaper.  
And in April last year, the ministry disclosed to Parliament that it had taken a Sh20 billion loan from Eastern and Southern African Trade and Development Bank (TDB) to repay another loan from Africa Export-Import (Afrexim) Bank that had fallen due.
Treasury also converted some of its debts to equity during a restructuring that KQ undertook in 2017, increasing its stake to 48.9 per cent from an earlier 29 per cent.
SEE ALSO :Public relations firm Gina Din sold
Joseph added that the listed airline was in discussions with the government – its majority shareholder – for a possible restructuring of the operations and corporate structure of KQ.
"KQ is also in discussions with the government with respect to collaboration between KQ and other stakeholders in the Kenyan aviation industry, including a possible restructuring of operations and corporate structure," said Joseph.
Strengthen the fleet
On Thursday, the airline said it had appointed Kilavuka as CEO. He serves as the chief executive of KQ's low cost subsidiary Jambojet and starts work on April 1 and all eyes are on him to steer the turnaround started by his predecessor. 
Kilavuka said Kenya plays a vital role in the aviation industry in Africa and the capital injection would aid KQ operations and strengthen the fleet.
SEE ALSO :KQ issues profit warning
"As a strategic national asset and key driver of Kenya's economic development and GDP growth, it is important that the airline continues to operate optimally. It is on this premise that this year, we identified six key areas of focus which are: improving our customer's experience, reducing costs and wastage, strengthening operational efficiency, stabilising the organisation, growing our profitability and managing relationships with our stakeholders," said Kilavuka.
MPs in July last year, voted to nationalise the airline as a way of saving it from mounting debts, meaning the government will buy out other shareholders.
Local banks, through KQ Lenders Limited 2017 own 38.1 per cent, KLM owns 7.8 per cent and the balance held by retail investors.
KQ has been on a loss-making streak and posted a Sh7.5 billion loss for the year ending December 2018.

Do not miss out on the latest news. Join the Standard Digital Telegram channel HERE.
Related Topics
Comments
comments
Coronavirus crash wipes Sh500tr off world stocks : The Standard
Reuters 29th Feb 2020 00:00:00 GMT +0300
Coronavirus panic sent world share markets crashing again yesterday, compounding their worst week since the 2008 global financial crisis and bringing the wipeout in value terms to $5 trillion (Sh500 trillion).
The rout showed no signs of slowing as Europe's main markets slumped 2-3 per cent early on and the ongoing dive for safety sent yields on US government bonds, seen as probably the securest asset in the world, to fresh record lows.
Hopes that the epidemic that started in China would be over in months, and that economic activity would quickly return to normal have been shattered this week as the number of international cases have spiralled.
Bets are now that the Federal Reserve will cut US interest rates as soon as next month and other major central banks will follow to try and nurse economies through the troubles and stave off a global recession.
SEE ALSO :China virus cases spike, 17 new infections reported
"Investors are trying to price in the worst case scenario and the biggest risk is what happens now in the United States and other major countries outside of Asia," said SEI Investments Head of Asian Equities John Lau. "These are highly uncertainty times, no one really knows the answer and the markets are really panicking."
Disruptions to international travel and supply chains, school closures and cancellations of major events have all blackened the outlook for a world economy that was already struggling with the US-China trade war fallout
MSCI's all country world index, which tracks almost 50 countries, was down over 1 per cent once Europe opened and almost 10 per cent for the week – the worst since October 2008.
For More of This and Other Stories, Grab Your Copy of the Standard Newspaper.  
Wall Street shares had plunged 4.4 per cent on Thursday alone which was its largest fall since August 2011. They have now lost 12 per cent since hitting a record high just nine days ago, driving into so-called correction territory.
Pandemic warning
SEE ALSO :China confirms virus spreading between humans
The CBOE volatility index, often called the "fear index", jumped to 39.16, its highest in about two years, well out of the 11-20 range of recent months.
The index, which measures expected swings in US shares in the next 30 days, typically shoots up to around 50 when bear market selling hits its heaviest and approached almost 90 during the 2008-09 financial crisis.
In Asia, MSCI's regional index excluding Japan shed 2.7 per cent. Japan's Nikkei slumped 4.3 per cent on rising fears the Olympics planned in July-August may be called off due to the coronavirus.
"The coronavirus now looks like a pandemic. Markets can cope even if there is big risk as long as we can see the end of the tunnel," said Norihiro Fujito, chief investment strategist at Mitsubishi UFJ Morgan Stanley Securities. "But at the moment, no one can tell how long this will last and how severe it will get."
World Health Organisation Director General Tedros Adhanom Ghebreyesus said the virus could become a pandemic as the outbreak spreads to major developed economies such as Germany and France.
SEE ALSO :Factbox: What we know about the new coronavirus spreading in China and beyond
About 10 countries have reported their first virus cases over the past 24 hours, including Nigeria, the biggest economy in Africa.
The global rout knocked mainland Chinese shares, which have been relatively well supported this month, as new coronavirus cases in the country fell and Beijing doled out measures to shore up economic growth.
The CSI300 index of Shanghai and Shenzhen shares dropped 2.9 per cent, on track for its first weekly loss in three.
Oil prices languished at their lowest in more than a year having plunged 12 per cent this week – its worst since 2016 – while all the major industrial metals have dropped between 3 per cent and 6 per cent.
The appeal of guaranteed income sent high-grade bonds. U.S. yields plunging with the benchmark 10-year notes yield hitting a record low of 1.241 per cent. It last stood at 1.247 per cent.
SEE ALSO :Travelers to be screened for 'Chinese' coronavirus- Government
That is well below the three-month bill yield of 1.436 per cent , deepening the so-called inversion of the yield curve. Historically an inverted yield curve is one of the most reliable leading indicators of a US recession.
Expectations the Fed will cut interest rates to cushion the blow are rising in money markets. Analysts say Fed funds futures are now pricing in about a 75 per cent chance of a 25 basis point cut at the central bank's March 17-18 meeting.

Do not miss out on the latest news. Join the Standard Digital Telegram channel HERE.
Related Topics
Comments
comments