Fashion fails at the Donnatella, Tanasha Donna's EP launch
Tanahsa finally released her EP, Donnatela on Friday last week and so many people turned up to support her new hustle.
Well, so many people other than the father of her only child, Diamond Platnumz.
Baba Naseeb Jnr told her that he needed to attend to an emergency back at home and left together with Mbosso. She walked into the event with Eric Omondi leaving the guest wondering where Chibudi Chibude was.
Those who came to support Tanasha were all dressed up for the red carpet and at the Sarit Centre.
From the pictures sent to us by our very own Moses Mwangi, there are a few people who do not know how to organize a nice outfit for such events. These people include our very own Tanasha, the lady of the hour.
Here are a few pictures of the many fashion fails that were at the event:
Nadia Mukami either drew her eyeliner the wrong way or the lashes were too big.

Annestella and Sharon Mwangi decided to go all ratchet and take off their shoes. Ladies if you leave the house in heels, maintain them. If you can't then leave them behind.

OG, Khaligraph Jones decided to wear a torn T-shirt. I do not know if this is fashion but it is not a good look on you.
4. Dear Tanasha Donna, when you decide to go with a high slit dress, either let the slit be a bot lower or go undie less. It's fashion baby girl.
5. Lindsay Lulu, the high slit should not look like it is struggling. Next time tell the tailor to add a few more inches to achieve the look otherwise the design is beautiful and the col.or looks good on you.
Comments
comments
Areas Where No one Was Counted During 2019 Census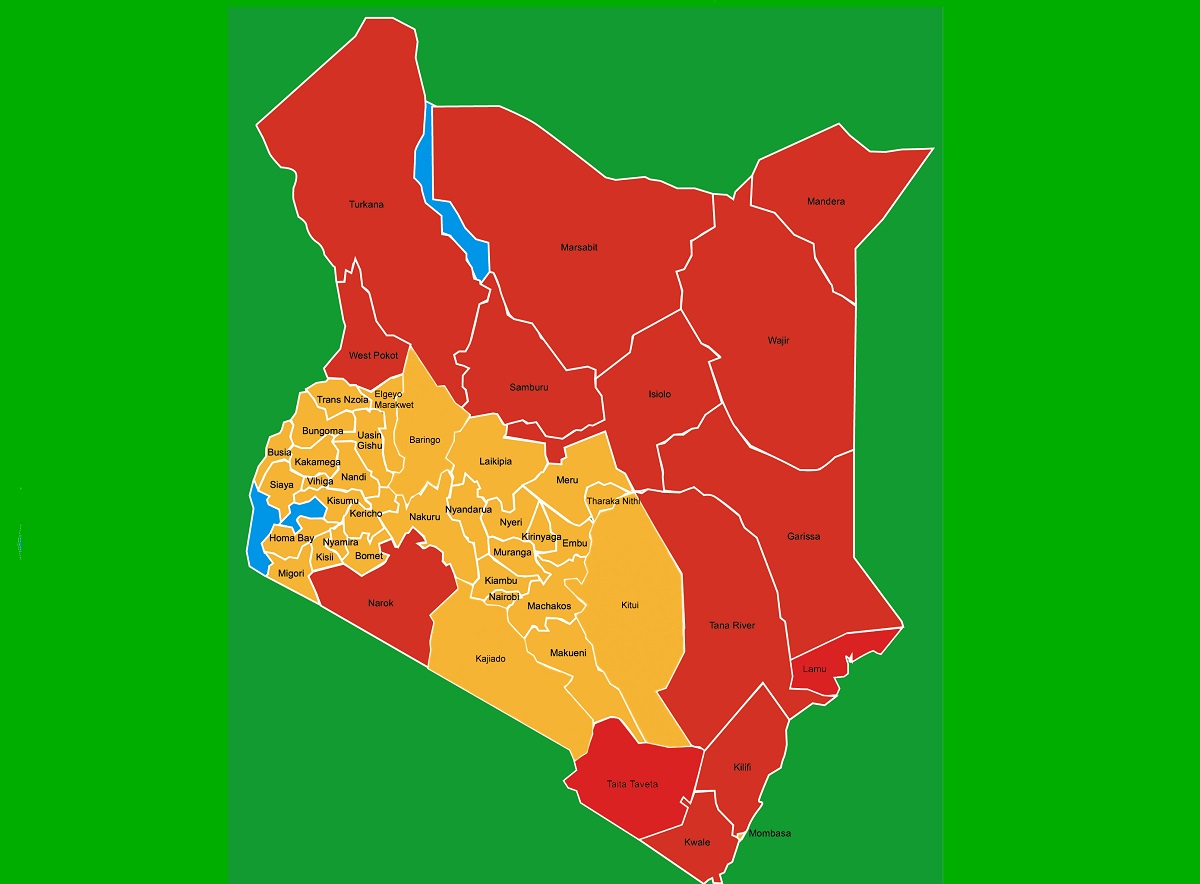 With the recently released data showing that Kenyans
are a total of 47,564,296 persons, it is interesting to note that there are
some areas with no inhabitants.
During the census, 23,548,056 males, 24,014,716 females and 1,524 intersex people were enumerated.
This represented an intercensal growth rate of 2.2 per cent compared to a growth of 2.9 per cent in the 2009 census, according to the Kenyan National Bureau of Statistics (KNBS).
Interestingly, a majority of Kenyans live in rural areas with almost 70% having been counted there. Of the numbers, 32,732,596 were enumerated in rural areas and 14,831,700 in urban areas.
Areas Where no one was Counted
According to KNBS, "the intersex figures are too few to be distributed at the sub-national level and totals may, therefore, differ slightly from the national aggregate."
Another interesting outcome is that some sublocations
had no one counted on the night of the census.
As funny as it may sound, there are areas in Kenya which returned a zero during the 2019 census.
KNBS gives various reasons for this occurrence.
According to the bureau, the reasons are that the areas
are either national parks, forest areas or that the populations had migrated on
the night of the census.
Below are the areas where no one was counted in Kenya: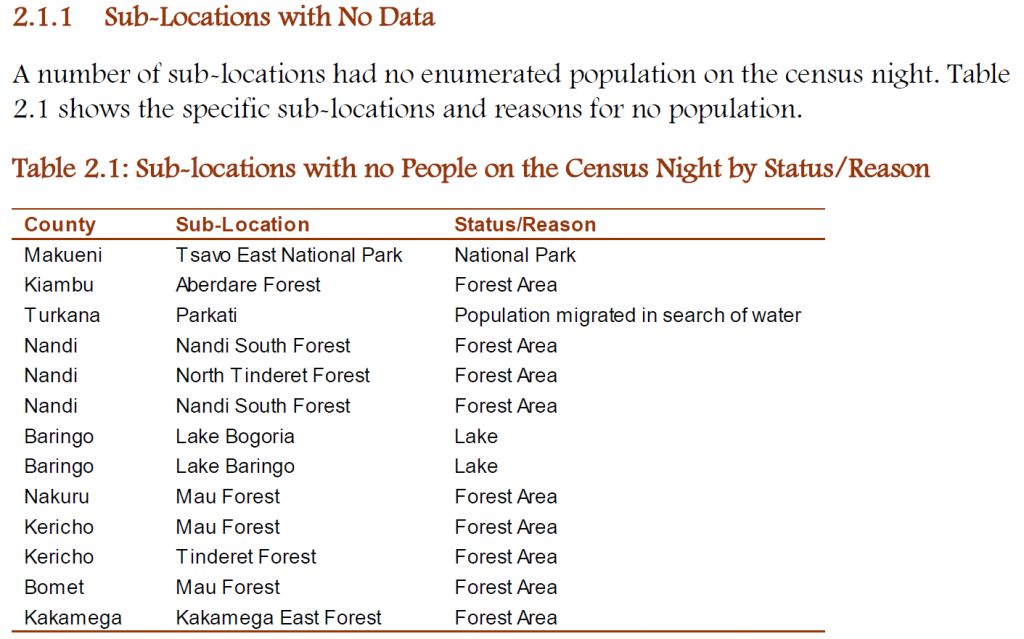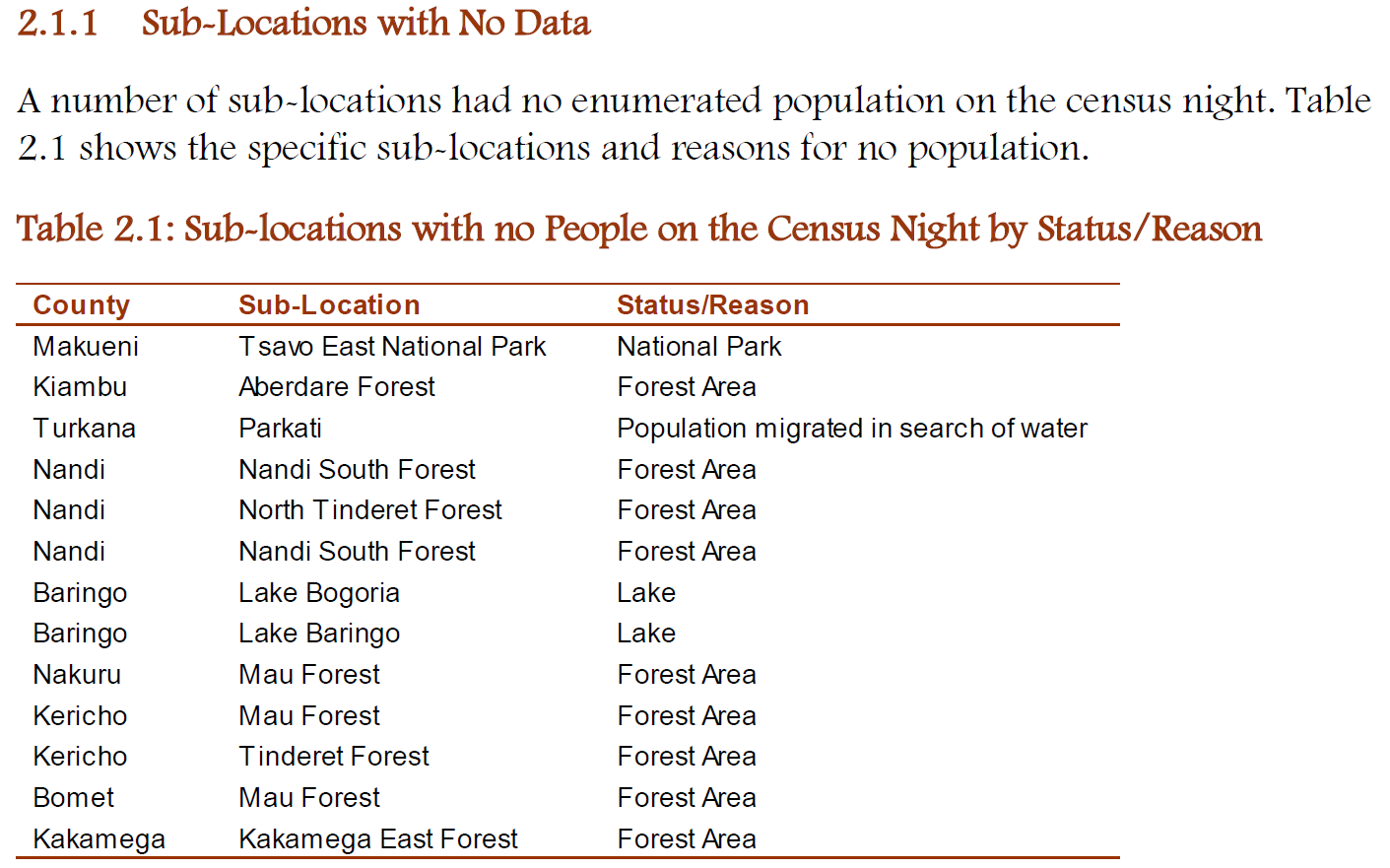 How KNBS Conducted the Census
KNBS says the census personnel included 2,467 ICT supervisors, 22,268 content supervisors and 138,572 enumerators.
The actual enumeration took place from the night of
24th/25thAugust 2019 and ended on 31st August 2019. A mop-up exercise was
conducted on 1st and 2nd September 2019.
The special population was strictly enumerated on the
night of 24th/25th August 2019. The 2019 Census adopted the de facto approach
where all persons within the boundary of Kenya were enumerating depending on
where they spent (or were found on) the census night.The canvasser method of
enumeration, where information for each individual or household is collected
and recorded by a trained census official designated to perform the tasks in
the assigned area, was used.
editor [at] businesstoday.co.ke
Comments
comments
Tuma fare! Kate Actress hubby responds to wife's birthday message
Catherine Kamau aka Kate Actress is married to film director and producer Phillip Karanja.
Kate penned down a love letter to her hubby now that he is celebrating his birthday.
She described him as her support system, a message that gave fans goose bumps.
HAPPY BIRTHDAY TO THE GREATEST MAN EVER! MY SANITY, MY BUSINESS PARTNER, MY SOULMATE, THE FATHER OF MY CHILDREN ON THIS DAY I WISH YOU THE VERY BEST IN THE NEXT PHASE OF YOUR LIFE, MAY GOD PROTECT AND FAVOR YOU, MAY HE REWARD YOUR HARDWORK, YOUR KINDNESS, SELFLESSNESS, WE LOVE YOU SO MUCH AND WE ARE SO BLESSED TO HAVE YOU IN OUR LIVES. HAPPY BIRTHDAY BABA K SQUARED.
Kate then dedicated the song Ocean by Javier Colon to hubby but what caught fans laughing was his response asking for 'fare'.
He wrote;
Thank you love kate actress  Sasa tuma fare na za nyanya raundi hii Ni gender equality
Phillip's best friend and former Tahidi high actor also penned a birthday message referring to him as a billionaire.
Champez!! Unaona hivi vile Tuko? Hivi tu ndio tutakuwa 60 years from now pale nyumba ya wazee tukipeddle zile tembe za sildenafil. Ladies tafadhali msigoogle hizo tembe. It's none of your business. Happy birthday Billionaire. Nunua boat faster nikushow mayeng flani pale Mauritius. 
From us is, Happy Birthday Phillip!
Comments
comments
Mystery of my missing dad still unsolved
Comedian Kartelo and his family – mother and two siblings – have been looking for their dad for a decade now.
Speaking to Betty Kyallo on Weekend with Betty, Kartelo narrated,
"My father just disappeared. It was in 2006. He just woke up one morning, went to work and never came back. We have never seen him since."
'I loved her so much!' Monica Kimani's dad remembers her grit
He continued,
"My mum had been posted to work in Murang'a as a teacher. My father convinced her to live at his home since he was from the area. But it did not go as planned, her inlaws beat her up, they stabbed her. She was admitted to hospital for a long time. My father left when she was bedridden, did not have a job, was still recovering. So it really hurt my mother."
The managed to pull through all that on their mother's meagre salary of Ksh 150 which she got from washing people's laundry.
They still kept up their efforts to look for their dad.
"We searched for him in prisons, hospitals, made public announcements even on the radio, he was nowhere to be found," he said.
"At first we thought it was a joke since he would disappear from time to time. It was some sorts of a conman, he would swindle money from someone, goes missing and after two months h would be released from prison. So when he went missing, we thought he would be back."
Kartelo added,
"We took it seriously when it was two years since he disappeared, and that's when we initiated another search. It has been over ten years now."
Kartelo and the family still hope that they will find home or he will resurface one day.
Comments
comments