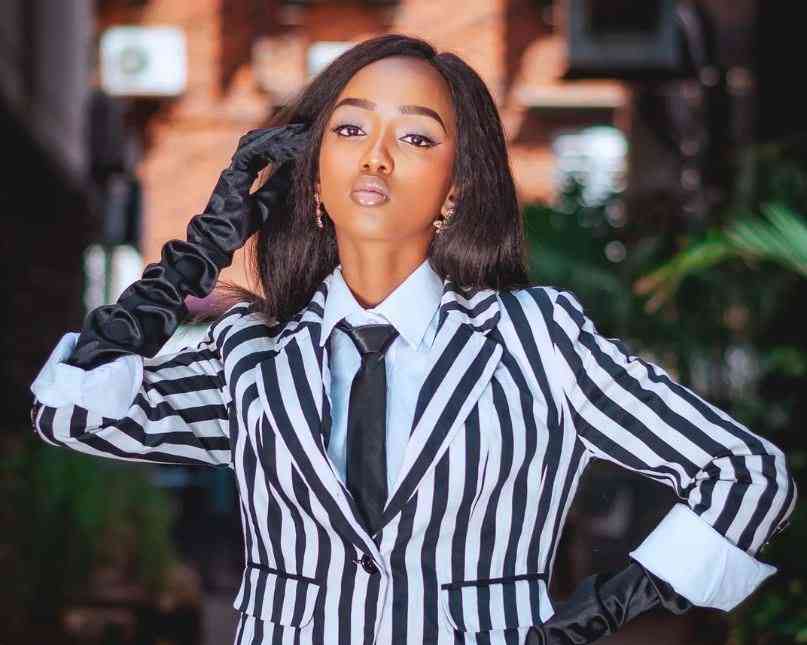 "This is for all young girls trying to make it," a jubilant Foi Wambui says as the crowd cheers and claps. "For a girl who won an award at the age of 16, this is to tell all young girls that you too can make it"
It is not the first time the 25-year-old actress is taking her place of honour at the annual Kalasha Film and TV Awards. On this Saturday, she is here among the crème de la crème in the film and TV industry not only as a VIP but also as a nominee and winner of Best Supporting Actress in a TV Drama.
It could be a different scene, but certainly, this is a family spot and to her confession, the feeling is not the same.
Having scooped the Best Supporting Actress in a Film award during the Kalasha Awards in 2020 for the Sincerely, Daisy thriller where she starred as Lisa, to her, her win in this year's awards through the new riveting Salem movie – as Ariella – is a different level of success and joy. And yes, she is craving more.
"I feel like this win was not only for me, but for all the girls who believe and who dare not quit. See, I won my first award during secondary school drama when I was 16. I was a smart student who besides being an actor could also have become a doctor or even a lawyer. However, I always found myself in artistic spaces and I realised that if I quit, it would not have been possible to be here," says Foi.
Do not mistake her small frame for weakness, she wields a strong persona. From taking major roles in Sincerely, Daisy, Crime and Justice and now Salem, the fast-rising act has proven her intention and desire for film stardom. Every step of the way matters, as she says. She is picking every arising opportunity and taking no chances.
Her involvement in short films such as Morning After, Uhuru and Anda Kava has seen her win hearts across the region, where thousands have become familiar with her thanks to TV channels where most of these works are now being featured.  
"Winning the Best Actress in a TV Drama brings quite a different vibe from what I felt when I won Best Actress in a Film. See, a TV show comes with many episodes and as people follow your character, they might get bored and say no. In a TV series, it is easy to get exhausted getting through say episodes one to 50. The way you express yourself might change through this journey. A film is different as it is short and just that. This win is an affirmation. It is bigger," she says.
Foi always had a passion for the set growing up. She did her scripts, took winning roles and propelled her school to big wins. However, she got a Law degree admission at the University of Nairobi where, soon, the profession was overtaken by her acting passion.
"I was a smart student and growing up I wanted to become many things. From Law, I decided to pursue Mass Communication and since my parents agreed to my request, I was glad to get my mind to a film career. So far, I think I have done the whole nine yards. Acting is a passion. I have at times found myself acting for free. Currently, it is coming with some financial freedom and making sense as a career," she says.
"Getting a breakthrough in the film industry cannot be a one-day thing. This industry comes with its challenges. I went for about 50 auditions without getting any role. I produced a short film that made a big win. Then, as I was shooting the second one, I lost a lot of money. I even got the police involved. It was so frustrating but the next day I found myself wanting to shoot more. That is when I discovered that this was a real passion. And that every role you play, no matter how small it might seem counts." 
The experiences Foi has had playing different roles in the many projects she has been involved in have grown, giving her different perspectives as well as exposure.
In Crime and Justice, her character Rehema is a 17-year-old who is accused of killing her father by stabbing him eight times, a chilling opener that may as well have been taken out of a true-crime murder story.
It is an intense episode and one that Foi carries with the gravity it deserves. "I feel honoured to be able to stand in this gap and express on-screen what so many have felt. Rehema is a representation of so many women, and I hope that anyone who watches this episode will feel seen and heard and that it heals people."
"Crime and Justice was the most intense series I was ever involved in. The cast had among the most accomplished actors in the land. I enjoyed working with Sarah Hassan and Mumbi Maina, two female artistes who beyond being great actors are true friends and mentors. I am inspired by their achievements, with Mumbi now even playing roles in Disney. I too want to go international," says Foi, who has also found passion in content creation.  
Related Topics