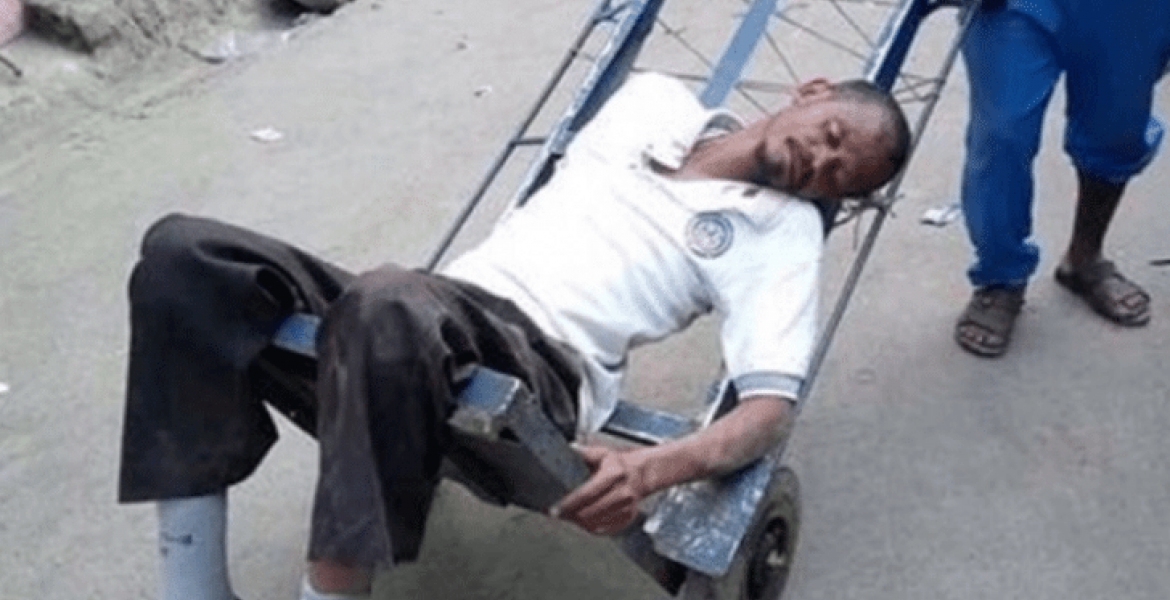 Martin Kamotho, popularly known as "Githeriman," has reportedly relapsed months after he graduated from a drug rehabilitation center in Kiambu last year.
Kamotho is said to be battling stage five of addiction (habitual stage), according to Sergeant Moses Kimenchu, a drug and addiction counselor who visited him at his rented house in Kayole, Nairobi this week.
Speaking to Daily Nation, Kimenchu said "Githeriman" now needs urgent rehabilitation and medical attention before things get out of hand.
"The man requires urgent medical attention, mentorship, and counseling before his case gets out of hand," Kimenchu said.
"Even after rehabilitation, Mr. Kamotho went back to his usual living area. There was no follow up from the rehab's management," he added.
The counselor said he saw viral photos of Kamotho "dead-drunk" on a trolley and decided to visit him to see whether he could help.
"…..the man was already frustrated by the various sponsors who had hired him to advertise their products but failed to pay him yet people perceive him as a rich man. He must have turned back to drinking to run away from criticism and questions," said Kimenchu.
After the photos went viral, "Githeriman" in an interview with local media denied that he was intoxicated, noting that he was "acting".
"I did not do anything wrong. If anything, it was me who asked to be put on a trolley. I am a comedian, and I wanted to entertain my people by pretending that I am a wealthy man being 'chauffeured around'," he said.
The 43-year-old said he got into excessive alcohol use after frustrations by corporates who had promised to change his life.
"I have been knocking on the doors of people, who promised to help me. However, they often tell me that they are not in a position to assist. What do you expect me to do when that is the case?" he posed.
Last year, Kamotho completed a nine-month rehabilitation program at Mama Care and Rehabilitation Centre in Kiambu. Kamotho graduated in a ceremony attended by President Kenyatta, where he was issued with a certificate.
Kamotho became an overnight celebrity after a picture of him eating Githeri from a plastic bag while lining up to vote during the August 8th, 2017 general elections went viral on social media.
He trended for days and top companies and brands such as Safaricom, Ngong Crescent, Big Square, and Bonfire Adventures among others poured him with gifts and even vacations.
He was branded a 'national hero' and even honored with a presidential award for his role in lowering tensions and 'uniting' Kenyans online during the election.