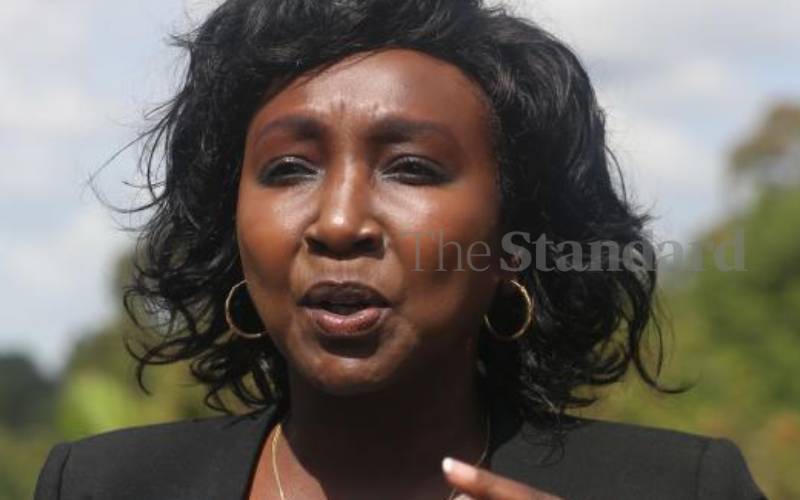 Uasin Gishu woman representative Gladys Shollei in Eldoret on January 24, 2020. [Peter Ochieng, Standard]
Uasin Gishu Woman Representative Gladys Shollei has defended the Chief Justice in the matter of the six rejected judges.
Speaking on Citizen TV on June 7, Shollei said after the Judicial Service Commission has issued the names to the President, it cannot revisit the issue.
She was responding to queries on whether the appointed judges should not have taken an oath of office as a show of solidarity with the rejected judges.
"They rightfully took the oath of office," said Shollei.
 saShe said CJ Martha Koome's hands were tied and could not ask the judges to "riot and not take the oath of office".
The lack of judges at the Court of Appeal has hurt the hearing of cases, other than hearings on stay orders, Shollei said.
"There are families that are suffering, and have gone bankrupt because their cases cannot be heard."
Upon forwarding the names to the President, the Chief Justice and the JSC became functus officio (ceased to have any role).
President Uhuru Kenyatta turned down the nomination of the six judges to the Court of Appeal and the Environment and Lands Court.
In a special gazette notice on June 3, the President appointed 34 of the candidates nominated by the JSC to the Court of Appeal, Environment and Lands Court, and the Employment and Labour Relations Court.
CJ Koome later urged Uhuru to appoint the six judges he rejected, saying the Judiciary is in dire need due to increased backlog cases.
She cited a scenario in 2014 when the JSC recommended the appointment of 25 judges, but only 11 were appointed and would later appoint the other 14.
In a statement on June 4, Koome said she was not involved in the judges' appointments.
The CJ broke her silence a day after Uhuru gazetted the appointment of 34 judges, and presided over their swearing-in, all within 24 hours.
She also lamented on respect as regards matters Judiciary saying no one should direct the JSC on how to execute its mandate.
"Respect for the rule of law and independence of the Judiciary is guaranteed under the Constitution. No person or authority is allowed to direct the JSC or the Judiciary in the execution of its mandate," CJ Koome said.
She termed the happenings between the Judiciary and the Executive as a "delay and misunderstanding" referring to the impasse in the appointment of the judges, spanning for two years.