Is an Exclusive Relationship the Same as 'Dating Exclusively'?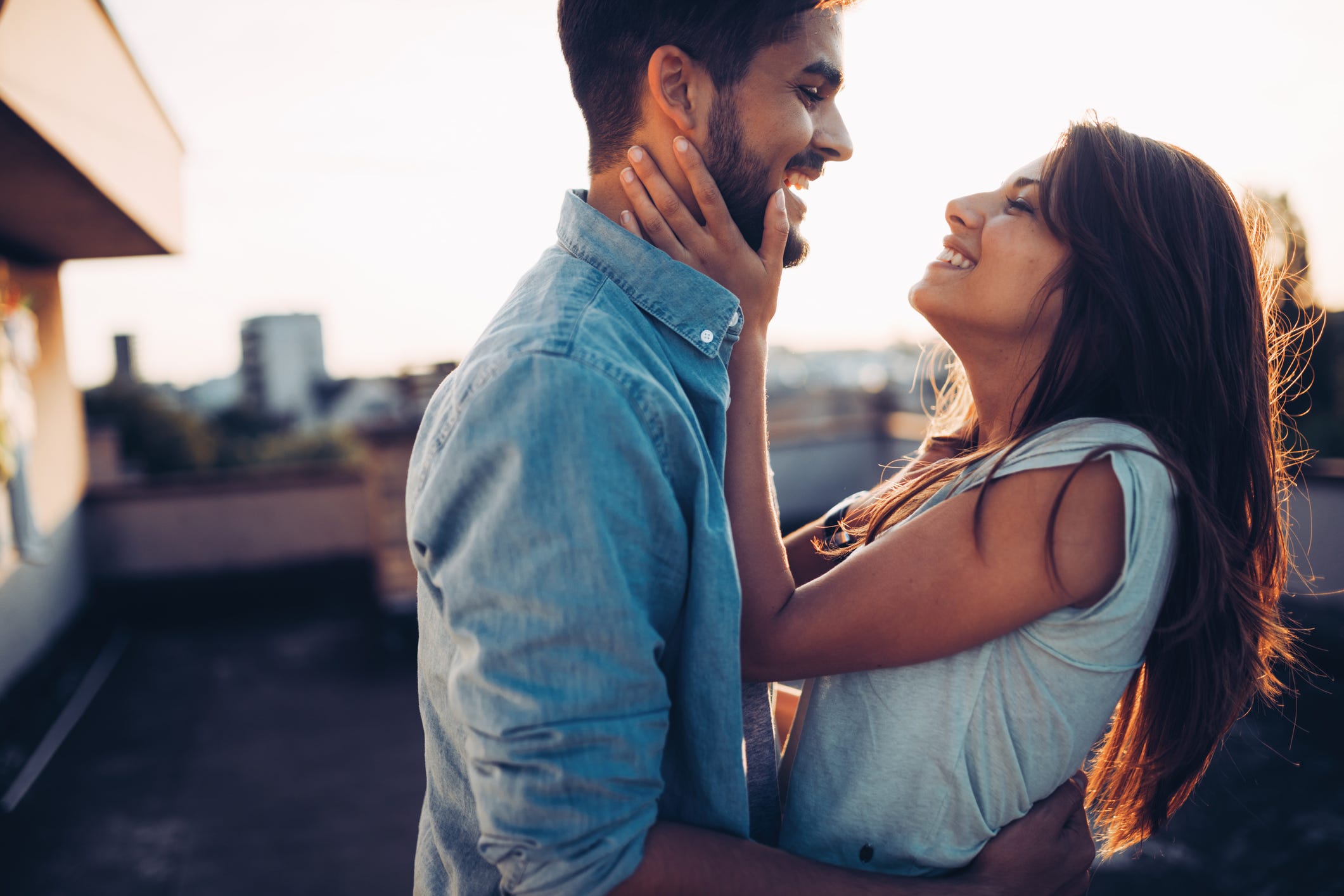 Dating has always been complicated, but the recent influx of new dating terms and trends has made trying to find your life partner even harder—what's the real definition of "talking?" Is it okay to ghost someone? And what exactly is lovebombing?
Another recent dating trend is the rise of the phrase "dating exclusively." It used to be that you were either dating someone casually—ie, still seeing other people—or you were in an exclusive relationship. Now, with this recent mishmash of words, daters are more confused than ever. Is "dating exclusively" the same thing as being in an exclusive relationship? What does it all mean?!
We talked to Maria Sullivan, Dating Expert and VP of Dating.com, to get some insight.
What exactly does it mean to date exclusively?
Labels often mean different things to different people, but you can think of "dating exclusively" as a transitional phase between dating and being exclusive.
"You are only seeing one person, and beginning to shift our mindset from short-term to long-term with your partner," Sullivan explains. So basically, while you may not be ready for an actual relationship, you're starting to think about a future with the person you're currently dating.
Does dating exclusively mean you're in a relationship?
While the concept can be confusing, dating exclusively doesn't necessarily mean that you're in a relationship, and for some singles, the low-key nature of being with someone without really being with them is exactly what they're looking for. (It's basically the basis of Ariana Grande's new song.)
"Being exclusive means that you are not seeing anyone else or proactively pursuing another person. Exclusive means you aren't in a committed relationship just yet, but that doesn't mean that it couldn't eventually turn into one," Sullivan says.
What are some signs my partner wants to progress to an exclusive relationship?
The easiest way to figure it out is to ask them! It's never easy to have the "what are we" talk, but ultimately, you might come away with a clearer picture of where you two are headed.
Sullivan says you can also take note of their body language. "If your partner is reaching for areas like your hand, face, knee or waist (especially in a public setting), these kinds of physical gestures are often a sign of endearment," she says. "Of course it is important to think back to when you first met, and compare their body language from then and now. If they have shifted to make more romantic and endearing gestures, it is definitely a sign that they are beginning to or have developed feelings for you, deeper than a casual fling."
How can I go from dating exclusively to being in an exclusive relationship?
If you decide that you want to take your relationship up a notch and fully commit to each other, you'll need to be open and honest with your partner about your needs. Have a face-to-face conversation with your partner about what you want from your relationship.
If your partner agrees to move your relationship into a full-time deal, that's great! If not, don't be discouraged—Sullivan explains that it's always better to find out if you and your partner on the same page, so that you can gain the closure needed to move on.
Comments
comments
Turkish Women Cup to prepare Starlets for AWCON qualifier – KBC
Harambee Starlets head coach David Ouma says he will use the Turkish Women Cup to prepare his team for the African Women Cup of Nations qualifier match against Tanzania.  
The team has been training at the Camp Toyoyo grounds in Nairobi and is expected to leave the country for Turkey on Monday next week.
With only two days left before the Turkish Women Cup kick-off, Harambee starlets head coach has expressed his confidence that the team will deliver positive results. They will Northern Ireland in their first match of the Competition on Wednesday next week.
The provisional squad consisting of 24 players, intensified training at camp Toyoyo, where they thrashed  Chapa Dimba Nairobi region winners Beijing Raiders 6-0 in a friendly match.
Get breaking news on your Mobile as-it-happens. SMS 'NEWS' to 20153

The team will conclude its preparations by participating in a mini tournament at Ongata Rongai on Saturday.
This will be the second time the team has earned an invitation to play in Europe after their 2016 International soccer tournament outing in Spain where they finished an impressive fourth. Other countries expected to compete in the tournament include; Hungary, Venezuela, Hong Kong and Romania.
The team which only consists of local players will be looking forward to securing themselves a position in the squad that will feature in the Africa women's Nations Cup qualifier matches.
The final squad of 21 players will be named before the team jets out to Turkey on Monday.
Tell Us What You Think
Comments
comments
Mother-in-Law From Hell! Kenyan Woman Narrates How Her Mother-in-law Pooped At Her Door Step
Mother-in-laws are said to be cold-hearted, unkind, unwelcoming, cruel, strict, abusive and even crooked creatures from hell. Most of them are the kind of species you'll never want to interact with on this earth. They make their daughter-in-laws' lives miserable and if you thought the many sad tales you've heard about them are wrong, wait until you read the story I'm about to write.
There are some who are good (30%) but the rest (70%) are devils. From mistreating, torturing and being abusive to their daughter-in-laws, mother-in-laws are the reason why many marriages don't last for long. She will turn you into a slave, gossip mate and use you to harm/hurt others, woe unto you if you fail to abide by her rules.
Well, a Kenyan woman has left many shocked after she revealed the worst things her mother-in-law has ever done to her.
The woman is a mother of three adorable boys, but her mother-in-law is not happy with her. She is still following the old traditions where one was expected to give birth to children of both genders or else, one was excommunicated or forced to 'marry a younger woman who would bear her husband children' so as to please the community.
This woman revealed that her mother-in-law has been mistreating her and calling her all sorts of names just because she doesn't have a female child. The satanic mother-in-law recently pooped her doorstep and told her to wipe it using her hands because she "could not bear them a girl".
"I have had enough of this world. I am a mOther of three boys. My mother-in-law has always insulted me because I don't have a dAughter but this evening the worst has happened, she came and pooped at my doorstep and smeared some on the door and said "panguza hiyo sababu ulikataa kunizaa" (wipe that because you refused to bear us a daughter) and I believe that this is pure witChcraft. What should I do?' wrote the stressful woman.
Ladies, have you encountered such mother-in-laws? How do you deal with them? Leave a comment in the comment box below.
Comments
comments
 Here Is Pastor Pius Muiru's  Beautiful Daughter 
Ladies and gentlemen, I know this is the news you have waiting for, for the longest time.
Well, meet Princess Maa, the beautiful daughter of famous city preacher Pastor Pius Muiru of Maximum Miracle Centre.
She is one of the coolest, calm, collected, and God-fearing pastors children around.
Pastor Muiru's daughter is not as popular as Preacher Kanyari's daughter or the Kiuna's, as she has always kept away from the public eye, and that's why little is known about her.
Unlike her counterparts who thrive on controversy, the innocent daughter of Pastor Muiru prefers spending time in her parents' church or at the studio doing photoshoots.
Just like her mother, Princess is also sexy, beautiful, and charming.
Comments
comments