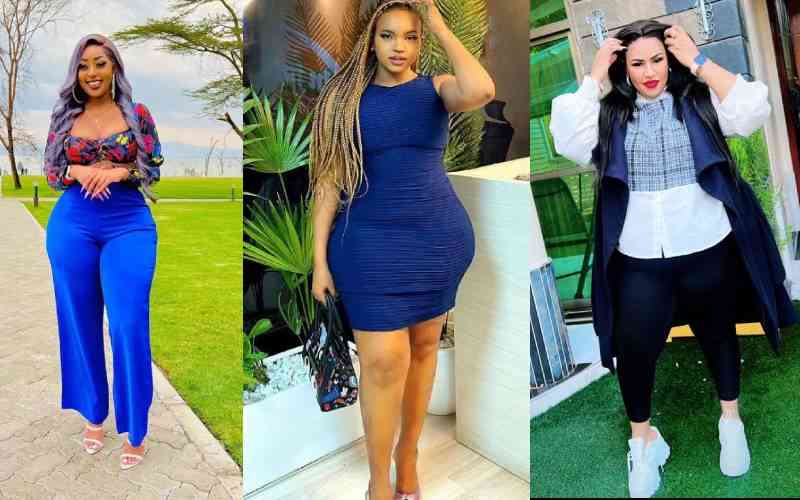 Matatu Operators Association Chairman Jamal, 'Rohosafi' Marlow, has proposed that his estranged wife Amira, ex-girlfriend Amber Ray and close friend Wangari Thiongo join the Real Housewives reality show set to premiere in Nairobi.
Sharing his sentiments on his social media, the city businessman explained that one of the ladies had what it takes to put the Kenyan name on the map.
"Real Housewives Franchises have been officially green-lit for Pretoria, South Africa and Nairobi Kenya. My thinking they should consider between this three women. That's between Amira, Wangari Thiongo and Amber Ray. Either of them can raise our flag high….My thoughts," he wrote.
However, responding to Jamal's view, a section of online users challenged his choice explaining that the show was not meant for girlfriends and exes but married couples only.
"All those Nominees go against the actual name of the show," wrote a user by the name Kena.ke.
"We mean wife's ok?" added Miss_africa_ktl.
"When did 'Housewife' change its meaning," questioned another.
News of the expansion of the popular reality television show across Africa was welcomed with so much excitement from fans eagerly waiting to see their favourite celebrities among the cast members.
According to Ana Langenberg, the Senior Vice President of NBCUniversal Media, the opportunity to venture into Africa will bring together various cultures and showcase each city's beauty.
"We are so proud to build on the continued success of The Real Housewives franchises across Africa. The way each version faithfully embodies the spirit of the city, people and rich cultures it showcases connects with audiences across the region and the diaspora. It was such a magical moment to bring our production partners together with Multichoice for our summit in Cape Town to connect, collaborate and map out more versions we can add to the family," she said.
About a year ago, the Director In Heels Productions announced that the casting of Real Housewives of Nairobi had already been finalized, and looked forward to unveiling the housewives. Speculations had it that luxury vlogger Catherine Kariuki, entrepreneur Sonal Maherali, and former miss Kenya Juliet Ochieng were among the cast members.
In an exclusive interview with The Standard, the show's executive producer Claire Ash Meadow dismissed the rumours that the trio would be cast members.
"After seeing the success of Real Housewives of Johannesburg within my entertainment industry colleagues around the same time, I approached the executives from Real Housewives Of Johannesburg production team and NBCUniversal network and was advised to create an audition tape. Using my social network, I found and featured Sonal, Catherine, and Juliet on this audition tape in early 2019. This audition tape was uploaded on YouTube to see audience reception of the franchise in Kenya, and with that Real Housewives of Nairobi was born," Meadow said.
Related Topics