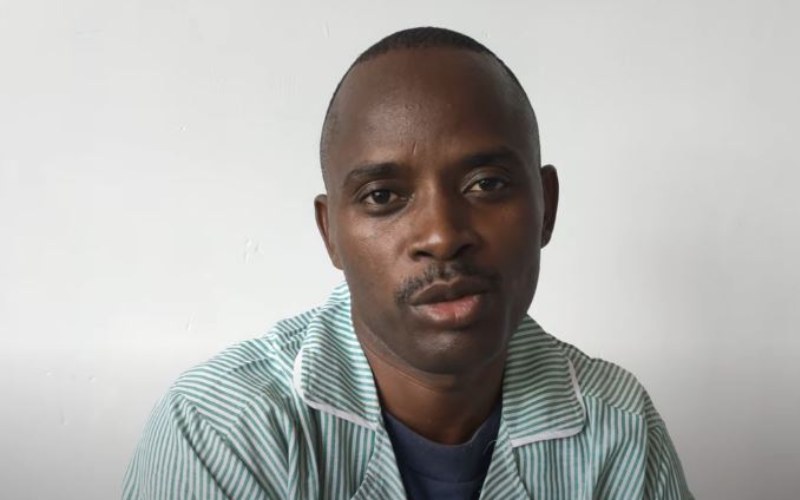 Kitui man who was reportedly bitten by a snake in his car has said his health is in a stable condition.
David Musyoka was driving along Mui Road when a snake fell on top of his car after untangling from a bird that was flying high above his car.
In an interview with The Standard, an employee of Kitui County government narrated that his attention was drawn when he heard the snake falling on top of his car.
"I heard something fall on the roof of my car and when I peeped, I saw a snake making its way into the car," he explained.
He said the snake made its way to the passenger's seat of his car.
David Musyoka narrated that he heard the snake falling on top of his car and as he tried to pull over, it slithered into the car through the open passenger side window.  [Courtesy]
Musyoka says that as he was trying to slow down by reaching for the brakes, the snake bit his right hand, between his thumb and index finger.
After being bitten by the venomous snake, he said he ran out of the car to the Kwa-Mbugu area, less than a kilometre away, with the snake stuck on his arm.
It is here that he says some people helped kill the snake before he was rushed to Mwingi Level VI Hospital for medical attention.
Musyoka remarked that after killing the snake and before they could burn it, the eagle mysteriously showed up, picked the dead snake and flew away with it.
He went on to say "by the time the bird was coming back, I was dizzy and could see double images."
The incident that allegedly took place on Monday evening has elicited mixed reactions and criticisms on social media.
"That was an unusual experience, and many people say it could be witchcraft, although for me what matters is that am in a stable health condition," concluded Musyoka.