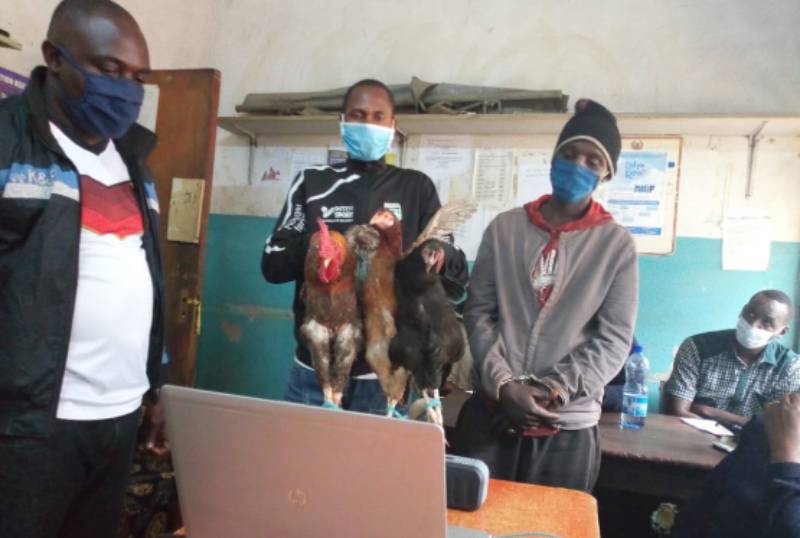 The three chicken were taken to court as exhibits.
A 29-year-old man will spend two years in jail for stealing three chicken after confessing to the crime before an Eldoret court.
Eliud Chege Njuguna was convicted on his own plea after he accepted charges of stealing chicken belonging to Dominic Kiarie at Yamumbi Village in Eldoret on June 27.
He appeared before Senior Principal Magistrate Richard Odenyo.
The prosecution read the facts of the case that Njuguna was caught in the act by the owner stealing the chicken at around 7pm.
SEE ALSO: Time to rethink your approach towards password change
Njuguna is said to have tried to attack Kiarie who in turn hit his head with a blunt object in self-defense in the process injuring him. 
The court heard that Kiarie was able to identify Njuguna during the commotion before he escaped. The owner then alerted his neighbors who came to his rescue and visited Njuguna's house where they found him donning the same clothes.
Njuguna was then escorted by the locals to Yamumbi police station where he faced the charges he confessed to.
The three chickens were brought to court as exhibits before Njuguna was sentenced.
In mitigation, Njuguna asked the court for forgiveness saying he was drunk on that fateful day and was not aware of his deeds.
SEE ALSO: IPOA asked to probe extrajudicial killings in Tana River County
He requested for a non- custodial sentence claiming that he still required further treatment for his wounded head.
But the court maintained that his sentence would be two years with a right to appeal the sentence within 14 days.