Mediation on the highly divisive 2019 Revenue Bill aborts
Comments
comments
Days after the fatal Langata Road accident, another one happens on Waiyaki Way
Days after the fatal accident along Langata road involving a Mercedes Benz, another one took place in the wee hours of today morning along Waiyaki Way.
Hawkeyed photographer Moses Mwangi witnessed the accident.
He wrote on his social media,
"Witnessed a horrific accident early today morning around 5 A.M, a speeding Subaru Imprezza knocked down trees and then rolled and landed in a ditch along Waiyaki Way outside Lion Place."
Adding,
"Miraculously the driver escaped unhurt apart from a few injuries on the mouth and ears, he couldn't believe it himself, he didn't break any limbs."
He continued, "The impact was so loud…That driver should thank God, the vehicle was a complete write-off."
Moses advised, "Manze alcohol and vehicles are two enemies. Ukienda out wacha ndae home."
Here are some reactions from online users who saw the photos of the wreckage.
One netizen observed, It's not the car. It's when God has not finished with you!"
One use exclaimed, "Hawa ni wale kamati ya "my car knows my home…🤔"
Another one revealed, "Something like this happened to me 6 years ago. I thank God."
Comments
comments
Busy mum-of-three explains how she plans an entire year of meals in advance
An organised mum-of-three has revealed she plans all her family's meals in advance for the entire year.
ALSO READ: Mum blogger's powerful post about why she 'needs a break' from her children
The meticulous parent from Queensland, Australia, also ensures she runs a tight ship household with a second detailed 12-month schedule for chores around her home.
She said her meals are cooked from scratch and includes dishes such as stroganoff, lasagne, meatloaf, bacon pasta and ravioli, Mail Online reports.
The working mum has listed a chore next to each meal to show what needs to be done and in which particular room.
On the 'blank' days in her schedule the family will eat something from the freezer, there is a celebrations like a birthday happening or the family will "wing it that week".
She posted her schedule from January to June in a Facebook group saying it will be repeated for the second half of the year.
She said: "I wanted to share some things that have made the start of my year a little easier.
"One – a dinner plan for the whole year… Two – an area to clean or tidy each day (larger areas on my days off) and three – lunch prep."
ALSO READ: Kate Middleton's mum guilt triggered by Charlotte's innocent question as she left for work
The busy mum said she prepares and cooks 120 lunches in advance for her kids which makes school mornings easier.
Before she drew up the schedule she said she was stressed about what to cook each day and to save time and money, she does all her grocery shop using the 'Click and Collect' facility.
"As I know what I need from the meal plan so save money," she said.
However she said there are days when she doesn't stick to the plan but she will make up for it by cooking on a day when she isn't working.
Her robust schedule was met with praise and admiration by other mums in the Facebook group.
One commented: "Wow. I do a weekly plan but this is phenomenal. You've inspired me to try something similar."
Another said: "I plan every week depending on what my kids want or if I come across new recipes and depending on the weather.
ALSO READ: Nana Gecaga on balancing motherhood, career and life
"During rainy days something spicy/tangy is cooked in our families. Sunny days and chill days are different. But this is mind blowing."
For More of This Stories Subscribe to the Standard Epaper to get a copy of Eve Woman in the Standard
Do not miss out on the latest news. Join the Eve Digital Telegram channel HERE.
The views and opinions expressed here are those of the author and do not necessarily reflect the official policy or position of Evewoman.co.ke
Comments
comments
Areas Where No one Was Counted During 2019 Census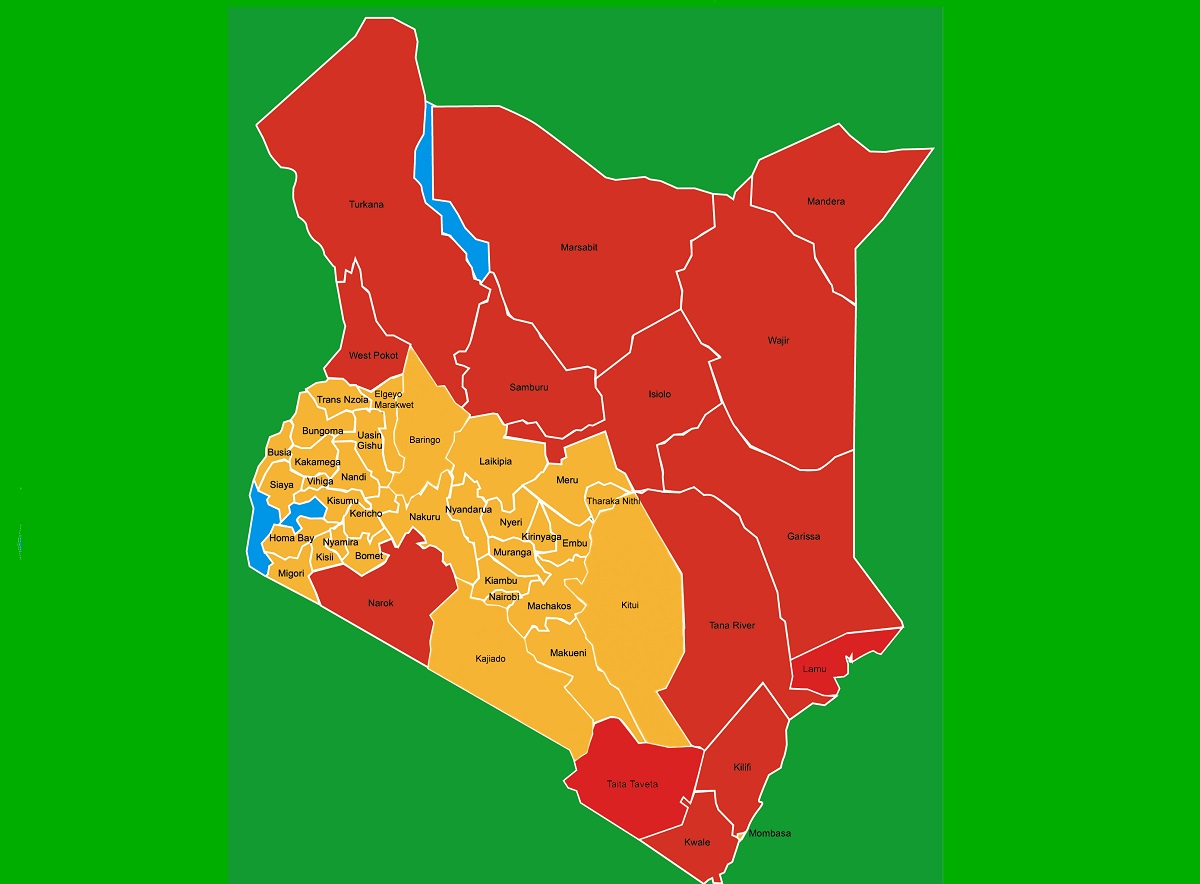 With the recently released data showing that Kenyans
are a total of 47,564,296 persons, it is interesting to note that there are
some areas with no inhabitants.
During the census, 23,548,056 males, 24,014,716 females and 1,524 intersex people were enumerated.
This represented an intercensal growth rate of 2.2 per cent compared to a growth of 2.9 per cent in the 2009 census, according to the Kenyan National Bureau of Statistics (KNBS).
Interestingly, a majority of Kenyans live in rural areas with almost 70% having been counted there. Of the numbers, 32,732,596 were enumerated in rural areas and 14,831,700 in urban areas.
Areas Where no one was Counted
According to KNBS, "the intersex figures are too few to be distributed at the sub-national level and totals may, therefore, differ slightly from the national aggregate."
Another interesting outcome is that some sublocations
had no one counted on the night of the census.
As funny as it may sound, there are areas in Kenya which returned a zero during the 2019 census.
KNBS gives various reasons for this occurrence.
According to the bureau, the reasons are that the areas
are either national parks, forest areas or that the populations had migrated on
the night of the census.
Below are the areas where no one was counted in Kenya: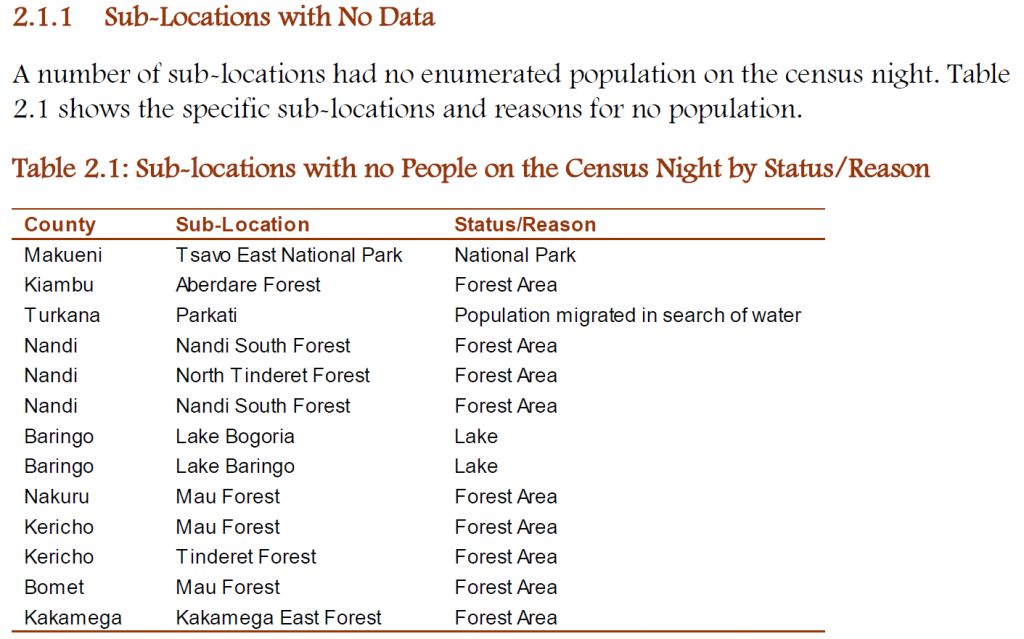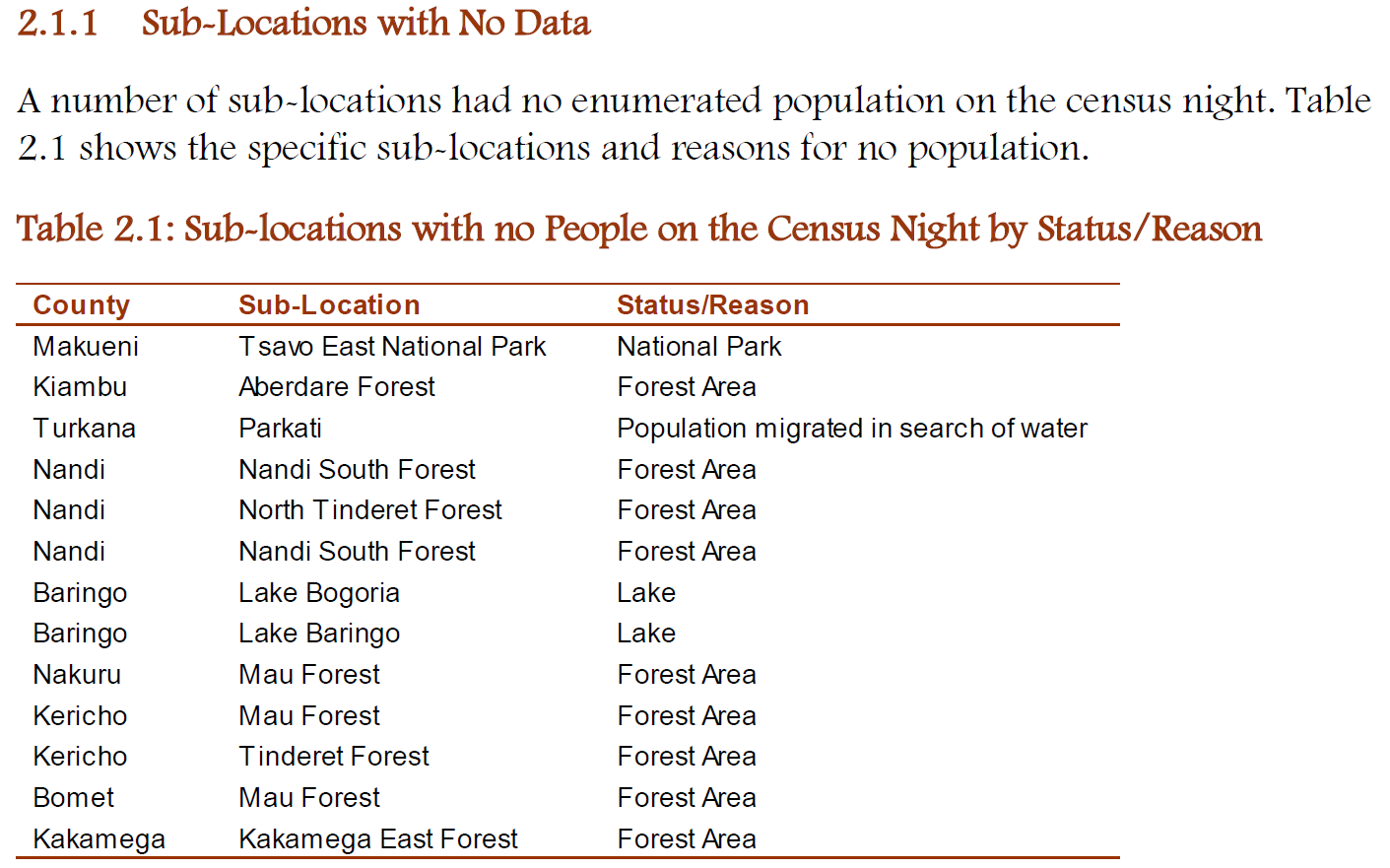 How KNBS Conducted the Census
KNBS says the census personnel included 2,467 ICT supervisors, 22,268 content supervisors and 138,572 enumerators.
The actual enumeration took place from the night of
24th/25thAugust 2019 and ended on 31st August 2019. A mop-up exercise was
conducted on 1st and 2nd September 2019.
The special population was strictly enumerated on the
night of 24th/25th August 2019. The 2019 Census adopted the de facto approach
where all persons within the boundary of Kenya were enumerating depending on
where they spent (or were found on) the census night.The canvasser method of
enumeration, where information for each individual or household is collected
and recorded by a trained census official designated to perform the tasks in
the assigned area, was used.
editor [at] businesstoday.co.ke
Comments
comments