Meet Misky Hajji, the 19-year-old Somali Girl Who Has Authored a Book
Misky Hajji, a 19-year old Somali girl, has surprised many by writing a book at such a young age in a community where literacy remains a challenge.
In the poetic book, titled Reset, the young girl voices the trials and tribulations of marginalized communities, one of which she belongs. She says the book is aimed at resetting socio-economic and political issues in the North-Eastern region of Kenya.
Misky's book addresses the main issues and challenges that the girl child undergoes for her to succeed in the Somali community and the north-eastern region as well as the feminine nature that helps in changing the mindset of the society.
Misky Hajji, who went to Matarajio Junior Academy in Mandera County, says she started composing a few lines when she was 10 and completed her first manuscript by the time she hit 14 years.
"I still hold fond memories of my mother going out of her way to get me copies of the daily newspapers to help me in the mastery of languages," said Hajji.
The young author thanked God for gifting her with writing talent, insisting that her journey to becoming an author balances between poetry and storytelling.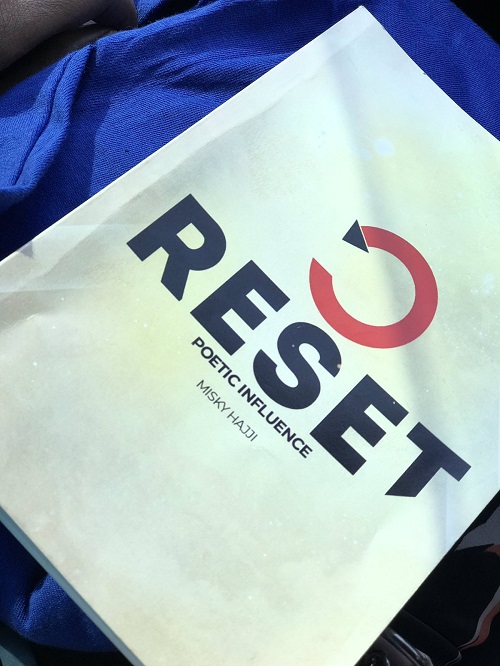 Speaking during the book launch in Nairobi recently, Garissa Governor Ali Korane said leaders should support and nature young talent in their regions. "I commit myself to buy 200 copies of this book for every school in my county," Korane said. "This will help them improve in literature skills and writing."
Wajir Governor Muhammed Abdi said education has several objectives, including preparing students for life by helping them find a pathway to employment as well as extracurricular activities such as writing.
"Through the power of the pen the author shares in a poetic manner the current situation of our state and the need to correct the inequality," said Mr Abdi, who added that they have provided Ksh.82 million to aid in the funding of 12,000 students' education. He added that writing skills can be used to document society's rich culture.
Mandera North Member of Parliament Bashir Abdullahi said that the youths have a big role in building peace and security. He said leaders should support women in all their endeavours. "We should use the theme of this book which is 'Reset' to retune our minds from violence to attain peace and security," said Abdullahi.
Let's reset our mindset my people! pic.twitter.com/f2TzYX7SBP

— misky hajji (@miskyhaji) September 12, 2019
editor [at] businesstoday.co.ke
Comments
comments
TSC urges locals to apply for teaching jobs in North Eastern
The Teachers Service Commission says it has no issues whatsoever with sending teachers to any part of the country, as long as their security and well being is guaranteed.
TSC CEO Nancy Macharia they are engaging Leaders from North Eastern region to help the Commission in encouraging their locals who are trained teachers, to apply for teaching jobs in that region.
She has urged the leaders to encouragement more of their people to train as teachers so they don't need to demand for non-local teachers.
Macharia said while the Commission has been portrayed as a heartless employer with no regard for the well being of teachers in North Eastern, in reality the Commission has done its best to ensure their safety.
Get breaking news on your Mobile as-it-happens. SMS 'NEWS' to 20153

Macharia however says the continuous condemnation by local leaders on the transfer of teachers during attacks in the region have continued to cause panic among teachers left behind, who in turn, seek transfers too, in fear of their safety.
This even as Inspector General of Police Hillary Mutyambai said the Government will deploy more police officers in North Eastern in the next two months, despite the fact that they have also lost a large number of police officers in the area, during their intervention.
The two were speaking when they appeared before the National Assembly Committee on Education alongside Education CS Prof Magoha to discuss the Mass transfer of Teachers from the North Eastern region.
Macharia said TSC has been under pressure from KNUT and KUPPET since the attacks on teachers started saying the unions had even sponsored the teachers to file court cases against the Employer.
"The Commission has taken various initiatives to help solve the stalemate, including engagement of Government Institutions, Political and Local leaders. Some of whom have dismissed the security concerns raised by the teachers." Macharia said.
Mutyambai termed the situation as comprehensive and complex saying it needs a partnership between the local leaders and security personnel to handle.
"The local leaders must talk to their people." Mutyambai said.
CS Magoha said while the matter of transfer is affecting locals, it's a fact that innocent Kenyans have died in the North Eastern region and the targeting of non-locals can't be downplayed.
"It is clear that this problem cannot be solved in a boardroom meeting. We all need to go to the ground and understand the issues there. We must all work together." Magoha said.
Magoha said the leadership of the Northern region should identify students fit to be trained as teachers, so they can be trained as soon as possible.
KNUT Secretary General Wilson Sossion called for sobriety on the matter saying "it is not an easy thing to comprehend that every few days, we bury teachers. Let us not be emotional about this issue, but strive to find a lasting solution to the issues raised."
Comments
comments
Finally! Maureen Waititu reunites with dad, years after his absence in her life
Kenyan media sensation, Maureen Waititu has seemingly patched things up with her father, whom she revealed had been absent her entire childhood.
Sharing a short clip of them, the social media influencer was busy hosting her show at The Vineyard, Kiambu road, before her father walked in, to her surprise.
Maureen gasped at the sight of her father, thanking him for being there for her.
Their reunion was at a club where she does her weekly gig during the Sunday brunch.
Absent father
Previously, the TV girl attested her broken marriage to the absence of a father-figure in her life. She partly blamed herself for the split and couldn´t seem to forgive herself.
This created a fear of keeping a man, in her.
Unfortunately, I have been raised alone. Just me and my mum. My father has never been in my life. It has affected me and my marriage and I realized this after the break down of my marriage. And I started blaming myself saying maybe it is because of how I have been raised without a father which makes me not know how to keep a man.
The beauty confessed she had tried all means possible, for a rebound with her absent father, with zero success.
No father, no siblings, it was a hard puzzle for her to crack because she lacked a support system for the sustenance of her marriage.
However, looks like issues have been ironed out.
Have a look:
Comments
comments
Woiyee…Willis Raburu speaks on being angry with God
Willis Raburu and his wife Marya Prude are still in recovery after losing their first child Adana.
Death robbed the couple of their unborn angel on December 31.
Also read;
The couple was left devastated and speaking for the first time after losing her baby, Marya questioned why God took their angel.
Everyone is so quick to tell me about God. What they don't know is that every way I knew Him, He was tested and He didn't prove Himself. So, as they say, you should know God for yourself. I now can say, I don't know Him. And I don't think I want to know him coz He left me when I needed him the most,' she posted online.
Also read;
Yesterday during a Q&A with his followers on Instagram, a fan asked Raburu if they were still angry with God and he responded saying
We are hoping to work on our relationship.
Media personalities showed love and comforted Raburu and Marya during the mourning period.
RABBZ, IT SHALL BE WELL. I KNOW YOU MAY NOT SEE THAT NOW, BUT TRUST ME IT SHALL BE WELL. SHE'S SMILING DOWN ON YOU. LOOK UP, SEE THE BRIGHTEST STAR, AND YOU'LL KNOW. I WISH YOU GOD'S UNWAVERING PEACE @WILLISRABURU AND @MARYAPRUDE IT IS WELL WITH YOUR SOULS,' Jacque Maribe posted.
Victori Rubadiri wrote, My heart breaks for you. A day at a time. With you in prayer Raburu 🙏🏽
MCA Tricky wrote, Bro Willis, may you find comfort and grace to cure your wound, pole Sana🙏
Sarah Hassan wrote,
Praying for you guys🙏🏽🙏🏽My heart breaks for you. May God comfort you in this time of need. pole sana my dear.
kate_actress @willisraburu this is painful 😔🙏🏿 It's not easy my dear friend, praying for you guys 🙏🏿
Also read;
Comments
comments