Nairobi Woman Rep. Passaris Goes After Blogger Robert Alai for Portraying Her as Promiscuous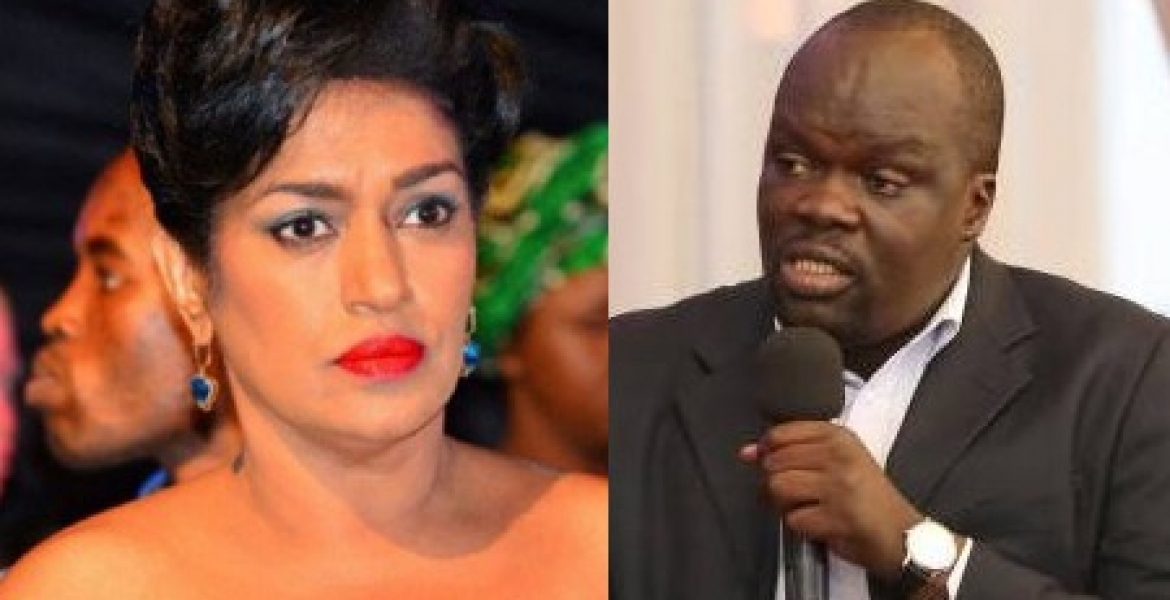 Nairobi Woman Representative Esther Passaris has vowed to sue controversial Kenyan blogger Robert Alai over defamatory remarks he published on social media.
Passaris took issue with Alai's recent post on Twitter where he accused her of being promiscuous and turning a blind eye to land grabbing in the city.
"With Sonko in Custody, the Akiba Estate land grabber is back digging the piece of land. Sonko accused the EACC head of investigations as being behind the grabbing of the piece of land"
"MP and MCA basically doing nothing. Esther Passaris looking for those she can bed," Alai tweeted.
Alai's tweet did not rest well with Passaris who has vowed to teach him a lesson for continuously publishing derogatory posts about her.
"I have instructed my lawyers. #RobertALiar will have his 'days of doom' sooner rather than later. This I will pursue," vowed Passaris.
She added: "It is honestly pathetic that over the years he derives relevancy by attempting to demean my being and my stature to whats between my legs. #respectwomen." 
Comments
comments
Kenyans Support Each Other Through Virus Crisis

Amid the coronavirus gloom, leaders, corporates, clubs and ordinary Kenyans are going out of their way to make a difference.
A silent philanthropic spirit is sweeping across the country as changemakers seek to save and touch the lives of ordinary Kenyans, especially those from less privileged backgrounds.
They are making face masks, contributing money, donating hand sanitisers, water tanks, soap, food and other essential just help their fellow countrymen survive the hell brought by the pandemic.
The Coronavirus Tracker
In Kitui, a factory that was making uniforms, mats, napkins and gardening clothes has transformed into a 24-hour operation making surgical masks — an essential product for health workers on the frontline.
Kitui County Textile Centre (Kicotec) has gone flat out to make 30,000 masks a day to help plug a global shortage of the protective gear. Kenya needs 15 million masks for its citizens
With the rising global demand for masks, Governor Charity Ngilu has decided to step up.
SPRAY BOOTHS
After a visit to Taiwan two months ago, Ms Ngilu quickly arranged to have Kicotec, which employs more than 400 workers, make some sample masks that were taken to the Kenya Bureau of Standards for approval, before being granted the tender to make them by the Ministry of Health.
"Let's not wait and wonder. We import everything and produce nothing, despite having all the resources at our disposal," Mrs said Ngilu told The Washington Post in a recent interview.
Kicotec employees are mostly women with very little or no formal education. The staff, who work in three eight-hour shifts, were retrained in seven days and are helping protect health in both private and public hospitals.
"It was a big challenge to bring them from the village to where they are today. But they are all experts now. They could each run their own factory, if you ask me," Mr Mbuvi Mbathi, the factory manager, told The Washington Post.
In Mombasa, businessman and politician Suleiman Shahbal has forked out Sh900,000 to instal fabricated automatic sanitiser spray booths in partnership with the county government.
RENT HALVED
The booths, installed on both sides of the ferry with larger ones under construction, are part of efforts to disinfect the ferry, a known weak link in the fight against the virus.
"This is the least we can do for the community to fight off this pandemic," Mr Shahbal said.
Several landlords have also come to the rescue of tenants. Mr James Kanja, 43, who owns a one-bedroom and two-bedroom rental apartment block in Mugumo, Ruiru, has reduced the rent by half for the month of April.
"I am a businessman dealing with construction material. My business is down and I figured that some of my tenants are affected," he told the Nation.
"In that apartment, I have teachers and some of them are on half pay. Also, the uncertainty that comes with this pandemic can be overwhelming. I just wanted to uplift their spirits and alleviate some of their stress so they can focus on other basic needs."
WAIVER
Other organisations and initiatives are rallying Kenyans to help support children's homes and street children.
At the corporate level, banks, telcos and manufacturers have wired hundreds of millions of shillings to support the government fight against the global pandemic.
Others are giving in kind, from PPE for medical staff to oxygen, soap, hand sanitisers, surface disinfectants and masks. The Corporative Bank leads commercial banks in the charity drive after it wired Sh100 million to the kitty.
UBA Bank has offered Sh15 million while Safaricom, besides foregoing Sh3 billion in M-Pesa revenue every month to allow free transactions for amounts below Sh1,000, has given the Ministry of Health four thermal cameras that will be used for screening at border entry points.
A number of companies have also come together to launch the Safe Hands Kenya campaign that aims to distribute free soap, hand sanitisers, surface disinfectant and masks to Kenyans.
CHARITY DRIVE
A nationwide marketing campaign will be rolled out in parallel to motivate behaviour change and inform people about practical and immediate measures they can take to stay safe and slow the spread of the virus.
Rotary clubs have not been left behind. They have launched an emergency kitty to provide soap, hand sanitisers and disinfectants to communities.
They are working with the National Emergency Covid-19 Crisis, the National Business Compact Forum and other stakeholders.
Already, the clubs have distributed hundreds of water tanks to communities in Nairobi and Kilifi counties.
"Rotary's top priority is to ensure that communities in low-income areas are supported and not left behind in the response effort," says Dr Joe Kamau, the Rotary chairman of the Emergency Response Team to Covid-19.
The response team is also partnering with ShofCo, Amref, Red Cross and Amurt Africa to support efforts by the National Rapid Response Team to deliver donor packs.
By Allan Olingo, Harry Misiko, John Kamau, Paul Wafula, Lilys Njeru and Kitavi Mutua
Comments
comments
President Kenyatta's Easter message of goodwill to Kenyans
Dear Kenyans,
The circumstances under which we find ourselves during this year's Easter holiday are unusual. Our world is going through a period of intense trial brought about by the Covid-19 crisis.
We have had to adopt unique measures which we hope will bring an end to the suffering caused by this global pandemic.
Everyone is doing his or her part to the best of their ability and I must commend those who have given tirelessly their resources, skills and expertise to help us get through this difficult period. I thank especially the researchers, doctors, nurses, clinical officers, emergency personnel and security teams who have been on the front lines of this fight. We would not be able to do it without you.
Get breaking news on your Mobile as-it-happens. SMS 'NEWS' to 20153

While the Easter period is often celebrated with close friends and family we are finding that this year it must be different due to the preventative measures we have put in place for our own safety and for the safety of our loved ones. The circumstance of the present however, should not blind us to the spirit and intention of Easter and the message inherent in the resurrection of Jesus Christ.
I urge all Kenyans, both at home and abroad to reflect on the resurrection story and remember that all things, even suffering, come to an end through unity and faith. Kenya and Kenyans have been tested many times before and we have always done what is necessary to pull through all difficulty and adversity. We have always found inspiration in ourselves and each other to find the sunshine after the storm.
Today we are in a storm. We have refused to give up and we will see the end of the Covid-19 pandemic in Kenya. We must come together by staying apart and breaking the chain of infection. Let us continue to observe good personal hygiene by washing hands and observing social distancing in our communities.
Though these actions are personal, by doing them together we can all do our part in defeating this disease.
There may be difficult days ahead but let us remember that suffering is temporary but triumph is eternal. We will be triumphant if we all do our part.
I wish you all a blessed Easter.
Uhuru Kenyatta, C.G.H., President of the Republic of Kenya
Tell Us What You Think
Comments
comments
Better days ahead as government starts closing quarantine facilities – Nairobi News
The government on Thursday announced that it has embarked on the closure of some quarantine facilities as it tries to manage the coronavirus pandemic, which has exacted a heavy economic and social toll, with many residents expressing uncertainty and worry over the lingering danger of infection.
Health Cabinet Secretary Mutahi Kagwe on his daily briefing said the government has resolved to no longer keep those who have tested negative of the Covid-19 virus in such facilities.
The CS noted the gains Kenyans have  made in adhering to the measures set by the government in a bid to curb the spread of the virus.
"I want to acknowledge gains in collaborative efforts in the journey to combat covid-19. We are glad that people are incrementally noting that the disease is with us. We cannot afford to drop the ball at any time soon. We are called to move vigilantly until our curve is flattened which it has not," he said.
The CS said those who were being held in the facilities have been allowed to self-isolate in their respective homes.
"By the end of the day we shall have closed Trade Mark and Hill Park hotels because we no longer need to keep those who have tested negative, not once but twice," he said.
Kagwe said only those who have tested negative on two consecutive tests will be allowed to leave depending on the doctor's discretion.
He urged Kenyans not to stigmatise those who have been allowed to join their families but rather receive them with love.
Acting Director General Public Health Dr Patrick Amoth facilities including Panari hotel, MTC in Karen and Lantana hotel will also be closed by end of the day.
ISOLATION CENTRES
"By the end of the week, we expect to have close all these facilities because we do not need to keep them open. Those who will have tested positive will be taken to isolation centres," he said.
Last month Kagwe announced that those coming into the country will undergo mandatory quarantine at their own expense.
The government drew a list of 57 establishments where they will have to pay to be quarantined as the country continues to fight the spread of the coronavirus.
Among the 57 places are hotels, universities, resorts and lounges. The hotels include, Hilton Garden Inn located at the airport were one will be pay Sh9,000 for a full board, the hotel has 100 available rooms.
Others are Safari Park, Pride Inn Hotels, Jacaranda Hotel, Trademark Hotel, Four points Sheraton, Boma Hotel.
Hill Park hotel in Upperhill, the hotel charges Sh7,000, on full board basis and has 44 available rooms.
Kenyatta University, Kenya School of Government, Crown Plaza airport, Mombasa beach hotel, LaMada hotel are also included in the list.
The Ministry of Education also said it was working with county governments to identify at least 20 boarding schools in each county to be converted into makeshift hospitals for Covid-19 patients should the cases shoot up.
Comments
comments