Nairobi Woman Rep. Passaris Goes After Blogger Robert Alai for Portraying Her as Promiscuous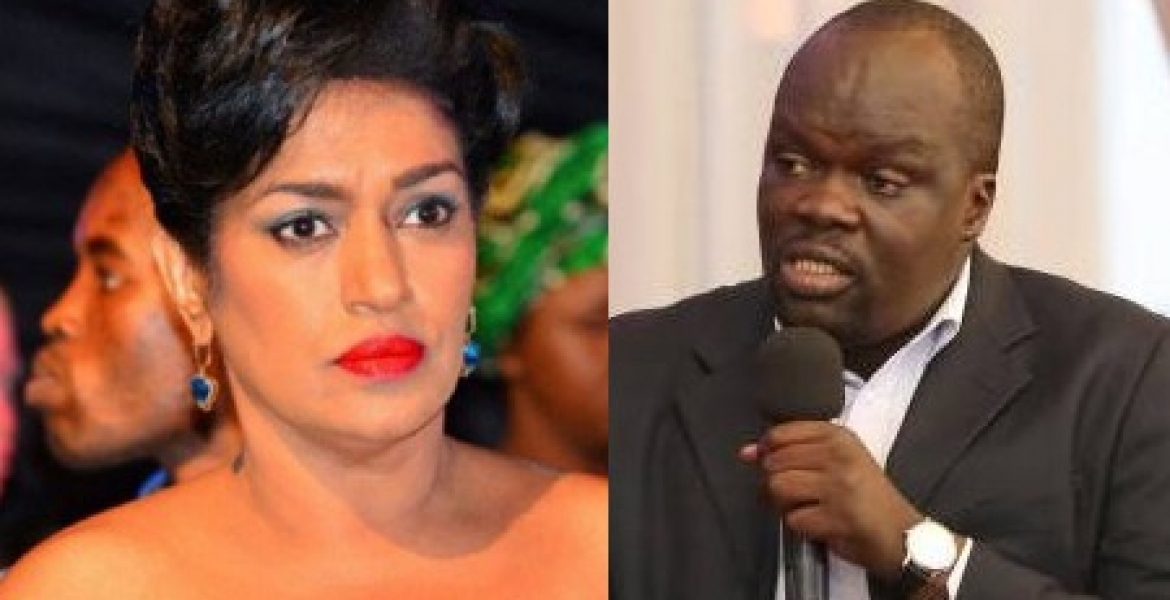 Nairobi Woman Representative Esther Passaris has vowed to sue controversial Kenyan blogger Robert Alai over defamatory remarks he published on social media.
Passaris took issue with Alai's recent post on Twitter where he accused her of being promiscuous and turning a blind eye to land grabbing in the city.
"With Sonko in Custody, the Akiba Estate land grabber is back digging the piece of land. Sonko accused the EACC head of investigations as being behind the grabbing of the piece of land"
"MP and MCA basically doing nothing. Esther Passaris looking for those she can bed," Alai tweeted.
Alai's tweet did not rest well with Passaris who has vowed to teach him a lesson for continuously publishing derogatory posts about her.
"I have instructed my lawyers. #RobertALiar will have his 'days of doom' sooner rather than later. This I will pursue," vowed Passaris.
She added: "It is honestly pathetic that over the years he derives relevancy by attempting to demean my being and my stature to whats between my legs. #respectwomen." 
Comments
comments
Khalwale on his own as Mudavadi, Wetang'ula to attend BBI forum : The Standard
Former Kakamega Senator Boni Khalwale and former Sports CS Rashid Achesa inspecting Nabongo grounds ahead of the planned today rally at the venue. [File, Standard]
Former Kakamega Senator Boni Khalwale could be humiliatingly on his own after leaders at Bukhungu Stadium confirmed that seats had been reserved for ANC leader Musalia Mudavadi and his Ford Kenya counterpart Moses Wetang'ula and the two are to attend the Building Bridges Initiative (BBI) meeting at Bukhungu Stadium, Kakamega.
Speaking to KTN at Bukhungu Stadium, a Ford Kenya party official confirmed that his party boss was on his way to the venue and that a seat had been reserved for him.
"I can confirm the two leaders will be here, as you can see there are seats reserved for both Wetang'ula and Mudavadi," he said.
If the two attend, it would confirm Central Organisation of Trade Unions (Cotu) Secretary-General Francis Atwoli assertion that no leader in western has the muscle to take him head on.
SEE ALSO :Boni Khalwale roughed up in KibraThe two had said they were not consulted and that they would skip the meeting that was to be attended by ODM leader Raila Odinga.
Khalwale who visited the Nabongo Grounds in Mumias town had affirmed the meeting dubbed Wstern Economic Forum, would go on unopposed, stating that he had mobilised local leaders from Trans Nzoia, Bungoma and Kakamega Counties and Vihiga Counties.
He said Mudavadi and Wetang'ula would attend the Mumias meeting.
For More of This and Other Stories, Grab Your Copy of the Standard Newspaper.   Subscribe Now »
Western leaders have differed over the today's BBI meeting with those allied to Deputy President William Ruto, Mudavadi and Wetang'ula terming it political.
Some claimed the meeting was to be used to endorse host Governor Wycliffe Oparanya as the community's spokesperson.
SEE ALSO :Showdown looms as Big Two make about-turnThose in support of the BBI meeting chaired dismissed the allegations adding that the event was a BBI affair.
 The meeting was mooted at another meeting held at Atwoli's rural home in Kakamega.
Those opposed to the BBI meeting questioned Atwoli's mandate to speak for the Western region.
Giving up
By today 11 am, Khalwale and other Tangatanga allied politicians were nowhere to be seen at the Nabango Grounds as police sealed off the venue.
Senate Majority Leader Kipchumba Murkomen has condemned the heavy police deployment, saying it shows clearly that BBI is not about uniting the country as claimed.
"Fellow Kenyans, BBI is the only way to end violence and politics of exclusion. We must create a nation of only one democratic idea. We're uniting this country by force. We've deployed our officers to ensure that no other idea thrives, only BBI. Anyone defying will be dealt with ruthlessly," he posted on his Twitter handle on Saturday.
Do not miss out on the latest news. Join the Standard Digital Telegram channel HERE.
Related Topics
Boni KhalwaleMusalia MudavadiBukhungu StadiumMumias townMoses Wetangula
Comments
comments
Regional experts draft confederation constitution
At least two constitutional experts and a legislative draftsperson nominated by each of the East African Community member states were expected at the consultation meeting on drafting the EAC political confederation constitution that kicked off in Ngozi province in Burundi last week.
After the committee of experts drafts the regional constitution, a Bill will be submitted to the Heads of State Summit for approval.
According to the chairperson of the committee, Benjamin Odoki, a draft constitution is expected in two years, in time for the proposed implementation of the confederation model by 2023.
The Political Federation—the pinnacle of the EAC Regional Integration—is the fourth step after the Customs Union, Common Market and Monetary Union.
If the constitution is adopted, partner states will begin ceding power to the confederation. Each partner state's constitution will then be subordinate to the federation's constitution
Even as Burundi is hosting the five-day meeting, its sour relations with Rwanda came to the fore as Kigali did not send a representative, prompting President Pierre Nkurunziza's deputy spokesman Alain Diomede Nzeyimana to tweet "President Pierre Nkurunziza believes that the idea of a "Political Federation" will not be easy to realise given the absence of Rwanda in the consultations."
Commenting on Kigali's absence, Rwanda's EAC Minister Olivier Nduhungirehe said it would not hinder the process "since the absence of Burundi in EAC meeting hosted by Rwanda never impacted the EAC integration."
Comments
comments
Labour court kicks out Mary Wambui : The Standard
The Labour Court has nullified the appointment of former Othaya MP Mary Wambui (pictured) as chairperson of the National Employment Authority (NEA) board.
Justice Onesmus Makau yesterday said Wambui was unqualified and dismissed her appointment as irregular and unconstitutional as she does not meet the qualifications for the position.
The court quashed the Gazette notice on the appointment, with Justice Makau saying the authority needs a person with academic expertise.
SEE ALSO :Kenyans mock ex-MP Mary Wambui's appointment"Her appointment to the board does not meet the constitutional requirements; it is therefore null and void. The Gazette notice is quashed. It is unlawful. A permanent injunction is issued barring her from being appointed to the post," ruled the judge.
The case was filed by Kenya Young Parliamentarians Association, a lobby headed by Nairobi Senator Johnson Sakaja.
According to the lobby, the former MP had severally admitted that she had limited education background.
For More of This and Other Stories, Grab Your Copy of the Standard Newspaper.   Subscribe Now »
Section 10(2) of the National Employment Authority Act provides that a person shall be qualified to serve as the chairperson of the board if they have at least seven years' experience in Human Resource Management or its equivalent.
However, there is no age limit.
SEE ALSO :A country of old peopleThe court heard that she did not have academic and professional qualifications to allow her run the office.
In a Gazette notice dated October 14, 2019, then Labour CS Ukur Yatani picked Wambui for the job, triggering an outcry from Kenyans.
Following the appointment, Wambui was expected to lead a team that will create job centres in all constituencies where youths would register, detailing their skills.
The authority is also expected to be a link between employers and potential employees by posting available vacancies on social media. 
Do not miss out on the latest news. Join the Standard Digital Telegram channel HERE.
Related Topics
Mary WambuiNational Employment Authority
Comments
comments