Prophet lives large on Jayne's cash, Ruto-Raila wars, Kids in mau mau camps: Your Breakfast Briefing
Good morning
DCI investigators last evening wrapped up the third round of questioning of Finance CS Henry Rotich.
Rotich was questioned for the second day in a row yesterday by police over the Arror and Kimwarer dams saga, which is currently under investigations by the Serious Crime Unit.
Here are the other stories making headlines in the Star this morning.
How Prophet Owuor lives large on Jayne's estate
Prophet David Owuor has been living a princely lifestyle financed through proceeds from a multi-billion empire owned by a once-high-flying, fashionable lawyer-turned-pauper.
And today the 'Mightiest Prophet' will be asked to explain it.
He has been summoned to appear today at Kabete police station for questioning by the DCI about allegations that he fraudulently obtained properties owned by ex-lawyer Jayne Muthoni, 62.
_____________________________________________________
Businesses at JKIA suffer million in losses in aviation workers strike
Flights taking off and landing at the Jomo Kenyatta International Airport in Nairobi were disrupted yesterday, forcing airlines to incur heavy losses after aviation workers downed tools.
The striking staff at JKIA under the Kenya Aviation Workers Union umbrella went on strike in wee hours of Wednesday, accusing the airport management of unfair staff hiring and compensation.
Although the depth of losses incurred is yet to be ascertained, Kenya Airways chief executive Sebastian Milosz said at least 24 flights travelling to different parts of the world were caught up in the melee that affected international travellers the most.
_____________________________________________________
Child offenders held in Mau Mau camps, suffer abuse every day
Juvenile offenders are detained in dilapidated Mau Mau camps at the mercy of government officials who abuse them daily, an audit report shows.
Auditor General Edward Ouko says in his latest report that the schools' management and teachers execute corporal punishment and hard work mostly at night.
The children are forced to repeat either class seven or eight since there is no secondary education for the offenders.
_____________________________________________________
Raila to Ruto: Are you the thief?
Former Prime Minister Raila Odinga came out guns blazing over Deputy President William Ruto's move recently to defend theft of money meant for construction of dams in the Rift Valley.
Raila also challenged anyone with evidence that President Uhuru Kenyatta has stolen anything to report to authorities for investigations.
 "If we are talking about the theft of the dams (funds) and figures are there, don't come and tell us that it is not Sh 20 billion but it is only seven billion. Let the investigating authorities complete their investigations," he said.
_____________________________________________________ 
Kirinyaga to produce rice wine, tomato paste
Kirinyaga county plans to set up tomato processing and rice wine factories.
Governor Anne Waiguru on Tuesday said the county struck a deal with private investors and sought the help of international development partners.
Her administration has aligned its blueprint with the national government's Big Four agenda — manufacturing, healthcare, affordable housing and food security. 
_____________________________________________________
For more on these stories and others, keep browsing the Star website for the latest news making headlines across Kenya and around the world.
To get the Breakfast Briefing right in your inbox every morning, click here for a free subscription.
Username Investments Ltd Awarded the Best Land Company in the Use of Digital Tech Solutions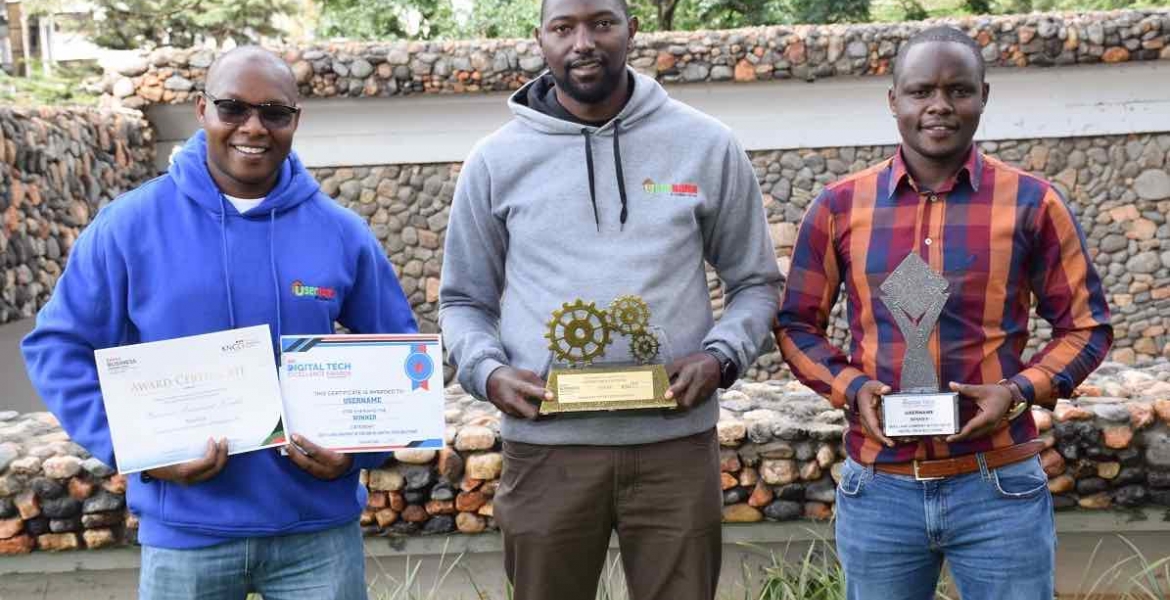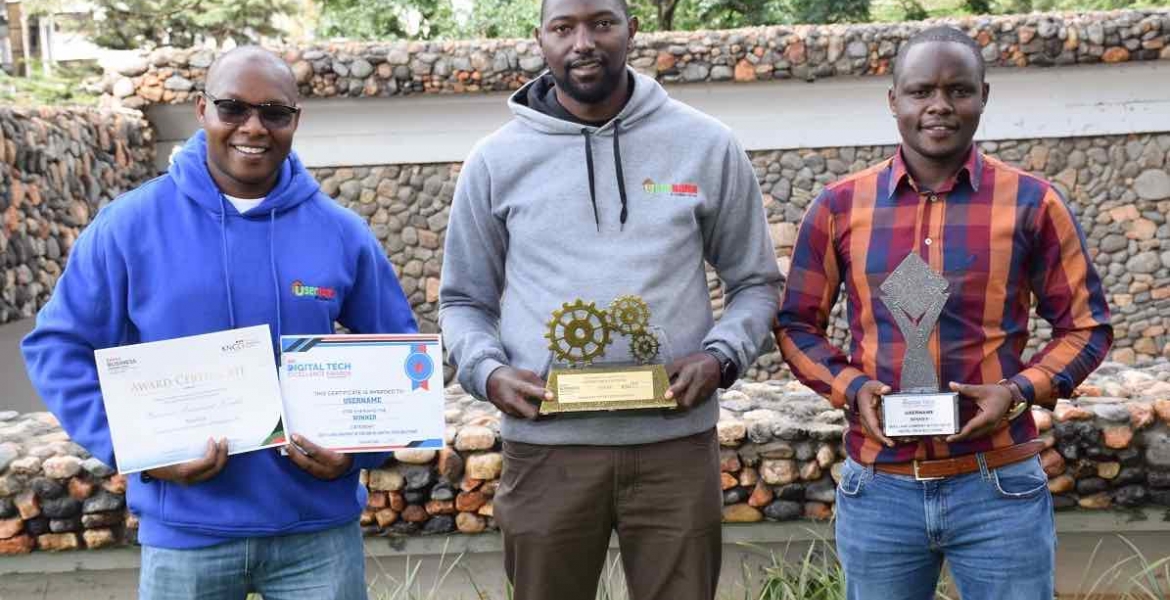 Username Investment Ltd. won the Best Land Company in the use of Digital Tech Solutions during the 3rd Digital Tech Excellence Awards held at Intercontinental Hotel, Nairobi. The event, organized by Digital Events, was meant to recognize and reward SMEs and Corporates who are making use of digital solutions to offer services in an efficient and convenient manner and to transform lives of their clients.
Kenyans react to video of man filmed washing fruits with filthy trench water – Nairobi News
Netizens have been left dumbstruck after a video emerged online showing a man washing fruits with filthy water inside a trench along a busy road in Nairobi.
The undated video, which went viral on social media on Wednesday, shows the man busy washing the fruits as pedestrians walk by.
What is even startling is that after washing his fruits 'clean' and carefully placing them by the roadside, the man then proceeds to wash his feet and sandals with the very same trench water.
The video has left some Kenyans scandalized on realizing that they had at some point bought fruits along the same road and eaten them without washing them.
There are those who insist the man is a hawker and he has in the past been seen washing vegetables and fruits in dirty trenches along city roads.
Others dismissed him as either a street boy or a mad man.
"I think ni street boy nizake zakukula sio za kuuza, wacha kuharibia hawkers soko," Saloome SOSO commented.
"Hadi nyi watu wote hamwoni huyo ni chokosh hawa digital," KT 9 said.
"I should be dead by now," Great Ngugi commented.
"Jesus… No wonder people are ill left right and center," said terry trizah.
"Kwani hata mwenyewe haoni aibu? Anaona amepata maji ya free😕😕😕😕😕,ndio sababu magonjwa hazitapungua pthooo 😢😢," Esty 1248 wrote.
"Maybe water rationing currently being experienced in many parts of the city has forced the man to do so," Festus Chuma commented.
Uhuru puts public officers on notice over conflict of interest
State officers with a penchant for having one leg in public service and another in private practice will now have a choice to make between the two or risk being sacked over conflict of interest.
While addressing the country during the 55th Jamhuri Day celebrations on Thursday in Nairobi, President Uhuru Kenyatta said it is against the leadership and integrity for state and public officers to dabble in private practice whether gainful or not at the time their services is required for the nation.
Consequently, the President directed Attorney-General Kihara Kariuki to fast-track the submission to Cabinet for approval and transmittal to Parliament for consideration the Conflict of Interest Bill, which has been subject to stakeholders' consultation.
And this could be the first proposal from the Building Bridges report that the President has sought to implement.
Under the chapter on corruption, the report proposes to address conflict of interest by reducing public officer involvement in business with the government.
Senior public officers who represent the government on the boards of private companies should clearly indicate any personal conflicts of interests in matters under deliberation.
"The position is simple; you either serve the public in the role you signed up for or you serve the republic as a private practitioner. It is a profound conflict of interest to do both," President Kenyatta said.
The President said State and public officers are not above the law and that "our constitutional order is a jealous one", which demands government officers serve no other master but the public.
Deputy President William Ruto, ODM leader Raila Odinga, National Assembly Speaker Justin Muturi and his Senate colleague Ken Lusaka, Kalonzo Musyoka of Wiper, ANC's Musalia Mudavadi and leader of majority in the National Assembly Aden Duale are among dignitaries who attended the celebrations as did former first lady Mama Ngina Kenyatta.
Barbados Prime Minister Mia Amor Mottley was the country's special guest at the celebrations.
In a 52-minute speech delivered at the Nyayo National stadium, President Kenyatta said judges and magistrates must cease completely any legal practice while in office.
He said doctors, engineers, accountants and other professionals who take up state or public office, should give up private practice and devote their full time and energy to public duties.
This, according to the President, is important to rid any perception that they are using state or public office as a platform to advance other interests.
The President's pronouncement is a big blow to lawyers who are actively engaged in private practice yet they are elected people's representatives in Parliament and county assemblies.
It also targets individuals who are gazetted as teachers yet they serve as MPs or members of the county assemblies (MCAs).
The President's message comes as two senators, Mutula Kilonzo Junior (Makueni) and Kipchumba Murkomen (Elgeyo Marakwet), and Makueni MP Dan Maanzo appeared for Nairobi Governor Mike Sonko, who was arraigned on Monday over misuse of public funds.
Curiously, the same senators are charged with the responsibility of supervising the expenditure of public resources at the counties, prompting the President to pose whether it is fair and right for legislators who have control over funds and exercise oversight over the Judiciary to appear in courts as counsels.
"Is it fair on the judicial officer hearing the case or the other parties that one party in the case is represented by persons who can literally change the law applicable to the dispute, control the career progression of the judge or magistrate, or are able to speak with the voice of an entire arm of government?" he posed.
But even as the senators appeared for the embattled governor, the President reminded them that no magistrate, judge, or any other state or public officer who has abused public trust should be allowed to hide behind the veil of autonomy and independence.
In 2017, Siaya Senator James Orengo led a team of lawyers serving as MPs — Tom Kajwang' (Ruaraka) and Peter Kaluma (Homabay Town), among others — in the petition challenging the election of President Kenyatta at the Supreme Court.
Interestingly, in 2013, then-Makueni senator, as Senior Counsel, the late Mutula Kilonzo, a renowned stickler for the rule of law and due process, bolted out of a team of lawyers representing Mr Raila Odinga in the petition he filed against President Kenyatta because of the risk of conflict of interest.
Mr Kilonzo Senior, however, played behind the scenes as a consultant during the case. The current Makueni senator is the son of the late politician.
Things are also not looking up for MPs Omboko Milemba (Emuhaya) and Wilson Sossion (nominated).
Despite being teachers with leadership positions their unions — Kenya Post Primary Education Teachers (Kuppet) and Kenya National Union of Teachers (Knut) respectively — they are also MPs.
The President's move, therefore, is a win for the Teachers Service Commission (TSC) boss Nancy Macharia, who has had her previous decision to deregister Mr Sossion as a teacher swiftly overturned by the courts.
Speaker Justin Muturi hailed the President's remarks, saying the issue of conflict of interest is against the leadership and integrity act under Chapter Six of the Constitution.
"We will deal with the bill when the time comes. But it is wrong to engage in private work when knowing that you are a government officer," Mr Muturi said.