Relief For Kenyans as Uhuru Cuts PAYE Tax in New Economic Measures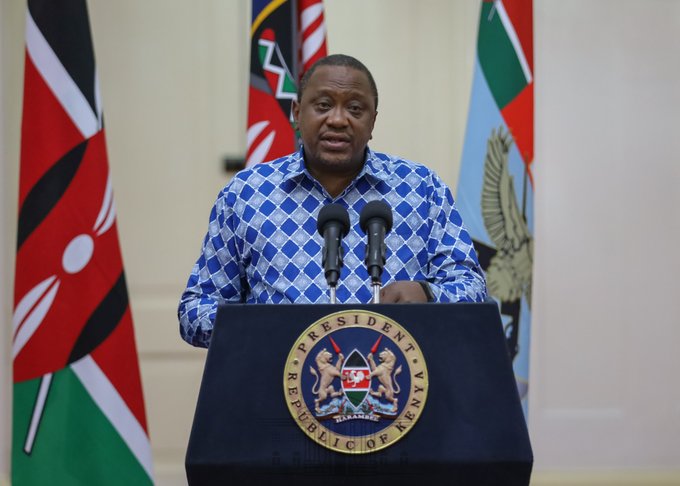 In the backdrop of a presidential address that attracted massive backlash, President Uhuru Kenyatta has announced a raft of new economic measures to cushion Kenyans taking a beating from the disruption of their income flow by the outbreak of the novel coronavirus pandemic.
Speaking during a televised address, President Kenyatta announced that he alongside Deputy President William Ruto will be taking an 80% pay cut while Cabinet Secretaries and Chief Administrative Secretaries will be taking a 30% cut on their pay packages as will Principal Secretaries who will take home 20% less than their usual.
Besides the cuts on senior executive civil servants' salaries, the President also announced a string of measures aimed at easing the strain on Kenyans feeling the heat.
The Head of State directed the National Treasury and the Kenya Revenue Authority (KRA) to;
Reduce VAT from 16% to 14%, effective April 1, 2020.
Reduce Income Tax Rate (PayAs-You-Earn) from 30% to 25%.
Effect 100 % Tax Relief for persons earning gross monthly income of up to Ksh. 24,000.
Reduce Income Tax (Corporation Tax) from 30% to 25%.
Reduce the turnover tax rate from the current 3% to 1% for all Micro, Small and Medium Enterprises (MSMEs).
Appropriate an additional Ksh10 Billion to the elderly, orphans and other vulnerable members of the society through cash-transfers by the Ministry of Labour and Social Protection, to cushion them from the adverse economic effects of the COVID-19 pandemic.
Temporary suspension of the listing with Credit Reference Bureaus (CRB) of any person, Micro, Small and Medium Enterprises (MSMEs) and corporate entities whose loan account fall overdue or is in arrears, effective April 1, 2020.
The Kenya Revenue Authority to expedite the payment of all verified VAT refund claims amounting to Ksh10 Billion within 3 weeks; or in the alternative, allow for offsetting of Withholding VAT, in order to improve cash flows for businesses.
'I recognize the anxiety that this pandemic has caused millions of Kenyan families; fearful of what the future may hold for them and their children and the possibility of job losses and loss of income weighing heavily on their minds," said President Kenyatta.
The president also directed all ministries and departments to begin the process of paying Ksh13 Billion of the verified pending bills, within three weeks. He also impressed upon the private sector to pay up its pending bills within a similar timeframe.
By the same token, the President also directed
That Ksh1 billion from the Universal Health Coverage kitty, be immediately appropriated strictly towards the recruitment of additional health workers to support in the management of the spread of COVID-19.
The Ministry of Health, the County Governments and the Public Service Commission to expedite the recruitment process of the additional health workers.
All-State and Public Officers with preexisting medical conditions and/or aged 58 years and above, serving in Job Group S and below or their equivalents, take leave or forthwith work from home excluding personnel in the security sector and other essential services.
Comments
comments
Wimbledon cancelled due to Coronavirus – KBC
Wimbledon has been cancelled for the first time since World War Two because of the coronavirus pandemic.
The tournament was due to be played between 29 June and 12 July.
The entire grass-court season has been abandoned, and there will be no professional tennis anywhere in the world until at least 13 July.
Wimbledon is the latest major summer sporting event to be called off, with Euro 2020 and the Tokyo Olympics postponed for 12 months.
Get breaking news on your Mobile as-it-happens. SMS 'NEWS' to 20153

It follows the postponement of the French Open, which was due to begin in May but has been rescheduled to 20 September-4 October.
"This is a decision that we have not taken lightly, and we have done so with the highest regard for public health and the wellbeing of all those who come together to make Wimbledon happen," said Ian Hewitt, All England Lawn Tennis Club chairma.
"It has weighed heavily on our minds that the staging of the Championships has only been interrupted previously by World Wars but, following thorough and extensive consideration of all scenarios.
"We believe that it is a measure of this global crisis that it is ultimately the right decision to cancel this year's Championships, and instead concentrate on how we can use the breadth of Wimbledon's resources to help those in our local communities and beyond.
"Our thoughts are with all those who have been and continue to be affected by these unprecedented times."
Why decide now?
The All England Club did not need to make a decision before the end of April, but the writing has been on the wall for some time.
That is when on-site preparations would have had to begin in earnest: a forlorn hope given the current restrictions in place in the UK.
As was the thought that by the end of June, 40,000 people would be able to take their seats in packed stands, and jostle for the best vantage point in the narrow walkways bordering the outside courts.
The government's advice that large gatherings should not take place is aimed, in no small part, at relieving the pressure on the emergency services, which would otherwise be in attendance. It is undeniably optimistic to assume the demands on the health service will have returned to normal levels by mid-summer.
Swift cancellation should help reduce any losses that Wimbledon, and the LTA's series of grass-court events, might incur – but there is also the issue of perception.
The All England Club would not want to be seen to be pushing ahead with a sporting event as the death toll continues to rise and the country remains in the grip of the pandemic.
Sticking resolutely to a place on the calendar, only to cancel abruptly, or postponing by a few weeks before having to concede defeat, is messy. It is not the way Wimbledon does things. Better, instead, to face facts and plan to return with a flourish in 2021.
What about refunds and impact on finances?
The All England Club had the foresight to take out insurance policies which will shield them from eye-watering losses. They will therefore be able to refund ticket holders, broadcast partners and sponsors – a bill which, even according to conservative estimates, will top £200m.
The Lawn Tennis Association will also receive its 'annual surplus' of profits. The payment, which effectively funds British tennis' governing body for the year ahead, was over £40m in 2018.
It is likely to fall, but should not leave an irreparable hole at the heart of the LTA's finances, especially as it has reserves of over £160m
But the LTA has lost over £12m in the past two years, and will also be hit by the loss of all of the summer grass-court events. Of those, only the Fever Tree Championships at Queen's Club actually returns a profit, but as they are not insured against cancellation, this year's losses will inevitably be greater.
But the biggest blow for British tennis is the loss of the best shop window of the year. No Queen's, Eastbourne or Wimbledon means no BBC TV exposure for the sport, and even if we are allowed to return to the courts, there is very unlikely to be the dramatic spike in participation usually seen in the months of June and July.
Will there be any tennis at all in 2020?
No-one is holding their breath for a resumption of the tour in Hamburg, Bastad, Bucharest and Lausanne on 13 July.
The Olympic tournament is already on hold; the prestigious events in Toronto and Montreal in the middle of August are said to be under threat; and the USTA has publicly floated the possibility of pushing back the US Open start date of 31 August.
There has even been talk behind the scenes of staging the US Open in Indian Wells, California, in December. But if you take the US Open out of New York and push it back three months, it won't be the US Open.
If professional tennis is able to resume, then the WTA in particular seems keen to make up for lost time and continue beyond the WTA Championships scheduled for the first week in November.
But the global nature of the sport, which requires players to cross continents with so much regularity, may yet make this debate an academic one as far as 2020 is concerned.
As the 2006 Wimbledon champion Amelie Mauresmo said on Twitter earlier this week: "I think we are going to have to draw a line under the 2020 tennis season.
"An international circuit = players of all nationalities, as well as coaches, spectators and those coming from all four corners of the world to bring these events to life.
"No vaccine = no tennis."
Comments
comments
Last moments before death! Nameless reveals E-Sir's ghost haunts him
Singer Nameless was the last person with music icon E-Sir before his untimely death.
It is more than a decade since Kenya's fastest rising artiste Issah Mmmari, aka E-Sir, lost his life in an accident on March 16, 2003.
He was on his way back to Nairobi from a concert at Afraha Stadium, Nakuru town, to help promote his debut album, whose songs remain club bangers to date.
E-Sir was an inspiration and a mentor to many and for that matter, the image of an evolving youth urban music culture.
He had done some collaborations with Nameless, which include Boomba Train, which will forever be in our history. Well, Nameless recounted his musical twin, whom he was ruling with then.
"I met E-Sir in Splash (in Langata) after he had joined Ogopa and we became friends. We would do shows together and later sit down and talk about how the show was."
"We would commute in a mathree. Some people would hate on our songs without knowing we are in the matatu with them. He would hear guys hating on our music style because we were doing music differently, and E-Sir would later come and tell me, 'Yoh, these people are hating so much, let's come together and become a power house'."
"That is how [the hits songs] Boomba Train and Maisha were born. Boomba worked well for us, to date, that has become my pillar and it always gives me the energy to move on in my shows, because it talks about what we used to talk about, the struggles and how we wanted to overcome them."
"When I started touring with E-Sir, I was big in the music industry and so I always made sure that I was the one who fungaas (closes) the show to maintain the audience. He would start and I would finish the show, then I would call him back to do Boomba Train."
Nameless added, "Our last show with E-sir, we were in Nakuru. E-Sir used to study the market so fast and adjust his writing. I remember after some shows, he had become big and now he was the one who would even funga the show. That day he fungaad the show, and I came later to do Boomba Train," Nameless recalled.
Nameless then opened up about the tragic accident that took E-Sir's life.
"I did not know from the time I was taken to hospital when it all happened. I was told he was in a different hospital. I had no phone or any other way of reaching E-Sir's."
He continued, "My brother came from Nairobi. I asked everyone and no one told me. My brother is the one who told me, 'E-Sir didn't make it'. It did not sink in. Like you know, you were with someone and then you are told they are no more, it cannot sink in."
Adding, "I changed and entered a car that is when Boomba Train was played, and all I remember is the presenters then announced it. At this point, I broke down and that is when it sank in. I cried and as I was listening to his song playing, I could feel like he was talking to me."
Nameless said life after E-Sir was gone, has not been easy.
"Moving on without him was hard for some moment. My wife always tells me that something in me changed. It took me back and I remember going to perform a song in his remembrance.
He concluded, "I remember when performing, I still had an injury but getting on stage and the love I felt for E-Sir just made me say that despite him going, I had to keep the fire going."
Comments
comments
Respeck! Khaligraph Jones boasts of newly acquired German beast [Video]
As Kenyans continue to feel the heat of the harsh economy, courtesy of the lethal COVID-19, rapper, Khaligraph Jones is busy splashing millions into luxurious cars.
Let's be honest, if no one has been spared by the lockdowns globally, it must be the entertainment industry.
Music artists get to pocket thousands through concerts and gigs which simply translate into a mass gathering of people.
However, the current situation has seen artistes instead count losses with music tours put off and others even cancelled, worldwide.
Well, despite the storm that has struck the globe regardless of status, gender or age, Khaligraph Jones seems to be living in a world of his own.
As individuals, rush to supermarkets and the grocery stores to purchase basics like toilet paper, food, medicine..name it! Khaligraph savored the moment to welcome home his new ride – a big, black, German machine.
Taking to his social media accounts, the influential Kenyan rapper proudly flaunted his new black beast, shouting:
Onyesha gari buda! watu waone buda!
Slowly cruising the sleek ride, Jones wanted Kenyans to have a glimpse of what having good money feels like.
A four-wheel drive fuel guzzler, German technology – a 2014 Porsche Cayenne edition, , the OG could just not get over the feel.
Boasting:
We got That Fire got the Heat. #respecttheogs
Mixed reactions
Intimidated Kenyan personalities, celebrities and fans online could not just contain their emotions, blasting:
Watch
Keen to note is that this is not the first move the OG has pulled. Just to list a few of his other expensive rides inclusive of: Mercedes Benz, Range Rover among others.
Comments
comments