This is how I'll make it. No more Faking it.
Picky Picky Ponkie…..
Well, that works perfectly in the art of sharing toys, and polishes infantile cheating, but falls bottom first in soccer prediction. I give up on that.
M-Bet Kenya happens.
I decide to join up. It's easy. I don't have a smart phone, but joining up is easy. I just Sms 'M-BET' to 79888, and get an instant free bet with a 50 bob deposit. A free bet, I intend to upgrade, though. If I had a smartphone, I would just have logged in via the M-Bet website, or downloaded the safe, faster and secure M-Bet App.
It's a walk in the park downloading the premium M-Bet App
A bare minimum betting low-limit of just 25 bob appeals to me, plus the best odds in Kenya. That's realistic. I ain't breaking no bank. I have pampers to buy. To spice things up, M-Bet is awarding its customers with the official 2019 Harambee Stars jerseys this AFCON season, all you have to do is play 3 tickets today and you could be a winner.
It's pretty easy to remember the deposit process details, too. The Safaricom or Airtel Money paybill number 298888 rolls off the tongue, and sticks in the mind. I intend to do a lot of deposits. Hell, no. I'll be doing lots of withdrawals because winning is all I do. And, that easy, too.
So much for Picky Picky Ponkie….
I guess I shall overcome teething problems, and I'll season out in this art. I shall play the PERFECT 12 Daily Jackpot, pretty simple, too. There is a list of 12 games plus 5 reserve games from different soccer competitions going on at the time – World Cup Women, Euro Cup Under 21, AFCON 2019 Kenya Premier League, EPL, Bundesliga, La Liga etc.
The trick is accurately predicting the outcome of all 12 games. Plus the outcome of the 5 reserve games, selecting 1, X or 2. That means Home Win, Draw or Away win. Well, there's a puzzle. Why do I need to predict the outcome of the 5 reserve games?
Well, turns out the reserve matches aren't initially considered, unless a game in the main list is cancelled. Lots of reasons may cause this cancellation – bad weather, for instance. Rowdy fans, we've seen this not only in Kenya but worldwide and such interruptions – like invading the pitch.
Things people do for love. Love for 'Okombe'.
If only one game is cancelled, the first game in the reserve group is considered. If a second game is cancelled, the next team is considered. And so on, in sequence – 3rd, 4th, and 5th. It's highly improbable to have such many cancellations, but, well, this is a little like having friends.
Ain't it said its better to have a friend and not need one, than need one and not have one?
The PERFECT 12 jackpot win goes to the winner correctly predicting all the 12 games, but in the event that the gods are taking a nap and I manage 9, 10 or 11 games, I'll still win huge bonuses. Perhaps, I'll have to share the gigantic dummy cheque – and with a few others, the prize is equally distributed.
Well, a chauffeured Limo ride. Red carpet treatment. The photo shoot. That's still a lot to smile about.
My crew is a skeptic lot when I introduced M-Bet to them, and did a mini-panel.
Maish: I don't have a smartphone, boss.
I say: It's easy. You can use M-Bet prime USSD, just dial *798# on your kabambe.
Ng'ang'a: My village has little internet coverage.Si kila mtu anaishi mtaani.
Oh, this guy Ng'ang'a runs a kiosk. He often threatens to close it, when we disrespect our debts.
I say: Use the USSD number. Dial *798# – doesn't need internet. Just normal coverage. Next?
Tonie: Life's hard, bro. How much money do I need?
I say: M-Bet is pocket-friendly, and has a low minimum figure at just 25/- bob only.Hio ni Samosa tu!
Tonie likes freebies, so I remember to tell of the instant Free Bet with the first 50/- deposit.
Tonie: Really? Niko ndani mbaya. Una load aje hio deposit?
I say: Just go to M-Pesa or Airtel Money M-Bet's Paybill number is 298888, and on account, fill 'Deposit'. Itaingia.
I take leave from this noisy bunch. I want to Play the Perfect 12 Daily Jackpot.
When, not if, I win The Super Prize, I may buy a ride, perhaps German. I may remember you from our 'walking' days and give you a ride. If that happens, don't go shouting greetings to everyone from the window – I hear that burns more fuel.
Comments
comments
Mmeona hii? Pastor Kanyari ditches old look for this new fashion (Photos)
Controversial man of God pastor Victor Kanyari has been going on with business as usual.
Also read;
The self-proclaimed prophet, who now goes by the name Bishop Mwangi of Salvation Healing Ministry, has changed his wardrobe.
The father of two has ditched his oversized, shinny red suits (prophet's uniform) for a more sophisticated look.
Also read;
Kanyari has now switched to Nigerian attires and has been sharing photos just to let those who don't attend his church know that he has upgraded.
Check out his latest photos
Also read;
Comments
comments
Kenyan Youth Will Bury Us in Large Numbers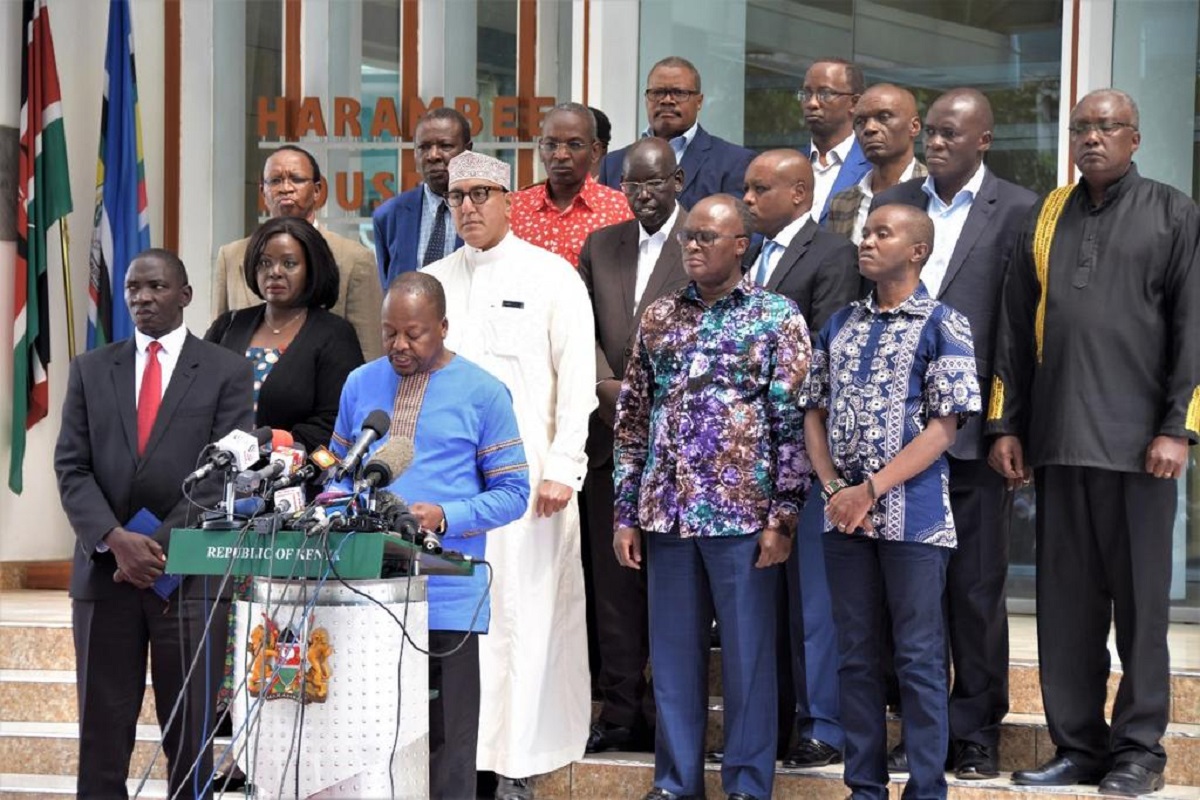 The Kenyan youth is one of the most downtrodden in any democratic nation in the world.
Almost six decades since the country gained independence from the colonialist, ukoloni mamboleo remains and the youth bear the brunt of it. Interestingly in politics, most of those who fall in the category above the youth bracket which is 35 years find government jobs easily in Kenya than those who could help move the country forward.
In fact, the president has been on record saying that the Kenya youth cannot be trusted with government jobs because they are corrupt.
In December 2018, Uhuru Kenyatta defended the decision to appoint former Vice President Moody Awori to the Sports, Culture and Social Development Fund Board, saying he had lost trust in the young generation.
"I saw that I was being criticized yesterday for appointing a 91-year-old to look after the youth's sports fund…lakini jameni you put yourself in my shoes. Ukiona vile pesa inaibiwa and this is money that we went and passed the other day to support health programmes… halafu useme tupatie kijana, mimi afadhali bana nikae na huyo mzee achunge hiyo pesa na itumike vile inatakikana! Watu wawachane na mimi bana sitaki mambo mingi…" he said.
But we are living in interesting times.
Ali Gire, the gentleman who is more patritic than many holding government jobs today has been demonised and even branded a criminal because he chose to fight ineptness by those mandated to run this country.
Gire became a target after recording and sharing a video of a Chinese plane landing at the Jomo Kenyatta International Airport (JKIA) when China was still in the heat of the covid-19 coronavirus.
The Kenya Airways employee was suspended for the recording where 239 China nationals aboard a China Southern Airline were allowed into the country and asked to 'self-quarantine'.
And now, "It is the responsibility of the youth to secure the nation. God in his wisdom has decided to place the youth at this particular time, so that they can take responsibility of this disease," said the Health CS Mutahi Kagwe in his April 4, 2020 update.
It is indeed interesting times that God has just realised there are youth in this country who can be used during the outbreak of the deadly covid-19 coronavirus. What an abuse and twisted view intended to misuse the very population that has been abused for decades.
"There is a generation that fought for independence and did its part, there are those who fought for the economy and the constitution. I appeal to you, it is now your turn as others have done, to protect this country," added Kagwe.
It is almost laughable that such an inane statement can be coming from a government that has made it its sole mandate to frustrate the youth left right and centre. There are no jobs with most of these young men and women confined to the corners of the economy where they are expedient for the political elite.
"If you don't, you will suffer the most. There will be no jobs and a collapsed economy. It is you who will bury us in large numbers. However, the path ahead is clear, you have to be part of the solution," the CS added.
Ironically, most of the youths he is imploring do not have passports and if they do, they have not been allowed to use them due to the tough economic times. The passports are just a means to escaping the country that has betrayed them and killed their hopes by stealing their future.
The CS proposes that the youth can organize themselves into groups and assist the security agencies to ensure that people maintain social distance.
As it has been and continues to be, the youth are only good for the menial tasks and not holding public offices. Kagwe is very well in order following the script that has been entrenched in a country that is bursting on the seams with youth who only need an enabling environment to make great things happen.
And now to the big issue.
The youth in Kenya did not let in the coronavirus but those who are responsible for it are still enjoying all the trappings of power.
In addition, the youth may not have a grip of the complexities in running a country and so they do not deserve what they have been clamouring for. But when it comes to disasters, these same people who are unacceptable in public office qualify to be in the frontline because they are the expendables.
In Kagwe's words, the youth will bury these politicians in large numbers.
Covid-19 coronavirus is the equaliser now that all the politicians have scampered and can only follow what is happening from the safety of their homes- albeit at the expense of the taxpayer. Interestingly, they are not falling sick requiring medical attention abroad and if they are, they are doing well keeping this under wraps.
Kenya is my home and its development and growth my motivation.
I have a pen and a story to tell about why #KenyaIsMagical.
Do you have a tip?
We can showcase Kenya together since there is no place like home.
Reach me at [email protected]
Comments
comments
Coronavirus victims to be buried within 24 hrs, CAS says
The Government has directed that persons who succumb to corona Virus must be buried within 24 hours.
Health Chief Administrative Secretary Dr. Mercy Mwangangi said the burials will only be attended by close family members.
The CAS said this as she announced that 16 more people have tested positive for the coronavirus in the last 24 hours bringing the total number of confirmed cases in the country to 142.
Dr. Mwangangi says of the number 15 are Kenyan while one is a Nigerian national.
Get breaking news on your Mobile as-it-happens. SMS 'NEWS' to 20153

Nine of the new cases were people put on quarantine on arrival from abroad before the Kenyan airspace was closed for international commercial flights.
The CAS said production of masks is ongoing and they will be distributed at county level to curb the spread of the virus.
The government however maintains that those on mandatory quarantine must strictly adhere to self-isolation if they want to b discharged early.
Four people have succumbed to coronavirus, among them Captain Daudi Kibati, a Kenya Airways pilot who contracted the virus on the airline's last flight from New York that evacuated stranded Kenyans two weeks ago.
Tell Us What You Think
Comments
comments