Eddy Kenzo's ex-wife, Rema was to marry her new man, Hamza Sebunya before the plans went foul.
Taking to social media, an elated Eddy Kenzo mocks the two after their relationship was termed illegal. This is basing on the professional relationship the two share.
In a since-deleted Facebook post, the music executive shares a letter drafted by the lawyer concerning the halted marriage ceremony.
Eddy Kenzo and ex-wife, Rema Namakula
The lawyer barred Sebunya from marrying Rema and all Eddy Kenzo does is laugh his lungs out claiming the Web is filled with comedy.
What is going on here? Comedy on the internet oba.
Apparently, Kenzo's ex-wife came so close to marrying her new found love after splitting with Kenzo.
Split couple, Eddy Kenzo and Rema Namakula
One of Kenzo's fans, sought the services of a lawyer after writing to registrar demanding that Sebunya gets punished by the Allied Health Professional Council's committee accordingly.
Our client has drawn our attention to the fact that he has learnt through the press and social media that during subsistence of Mr Edirisa Musuza aka Eddie Kenzo and Ms Rema Namakula's relationship, the person who was a doctor to Rema Namakula one Dr. Sebunya Hamza has contracted marriage with her which our client believes constitutes professional and ethical misconduct.
What unveils is fact that Mr Sebunya was actually Rema's doctor and according to the law, their marriage would defy both professional and ethical standards.
Dr. Sebunya Hamza and his client-cum-lover, Rema Namakula
Therefore a legal union between the two goes against the law pf a doctor marrying their client.
Suspicions are that the two might have started dating couple months ago, while Rema was still with Eddy Kenzo.
Letter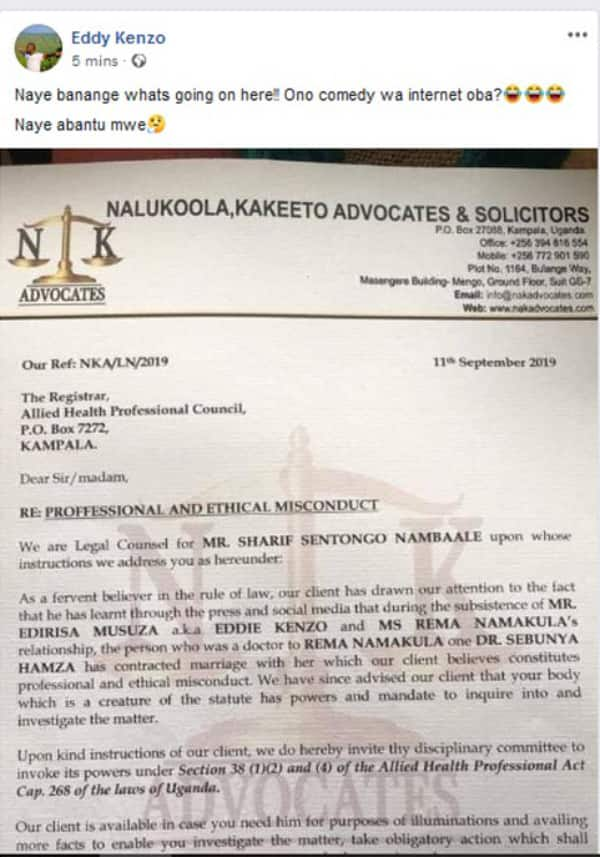 Photo credit: TUKO