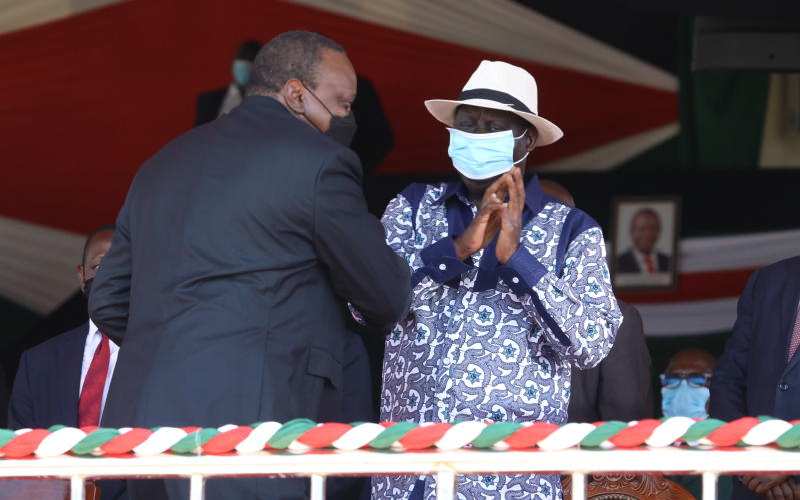 President Uhuru Kenyatta with ODM leader Raila Odinga during 58th Madraka Day celebrations at Jomo Kenyatta International Stadium Kisumu on June 1, 2021.[Collins Oduor, Standard]
President Uhuru Kenyatta's Madaraka Day speech could have given the strongest hint of his kind of a preferred successor, next year.
It was a curious statement not lost to keen listeners but very weighty, perhaps a pointer to his plans in the sunset days of his presidential term. The national event was thronged by the country's political heavyweights, some who have declared their interest to succeed Uhuru in State House.
Other seemingly weighty matters like the unwavering support for the Building Bridges Initiative (BBI) birthed through the Handshake with his brother and ODM leader Raila Odinga and the thinly-veiled hit at the Judiciary, hogged the limelight of President Kenyatta's address.
But his allies affirm that the president was laying grounds to hand over the mantle of leadership to Raila who has stayed beside him since the famous Handshake in March, 2018.
"The president chose his words carefully. He singled out Raila and without a direct endorsement, lauded his support to his administration without asking anything in return," said an ally of the President, who did not want to be named.
He went on: "He spoke about it also in Siaya at the start of his three-day visit of the lake region. He talked about Jakom support, saying going into the future, he would be happy to work with him and other like-minded leaders."
But another ally argued that even during retire President Mwai Kibaki's term, the preferred successor was President Kenyatta but Kenyans believed it was ANC leader Musalia Mudavadi.
"The president knows what a project would do to a person's presidential bid. He won't do it now," he added.
With these assertions from the President's team, could he have endorsed Raila at the historic Madaraka fete held for the first time in Kisumu city? And how befitting would be the ground to give the son of the lakeside region such a nod for future leadership?
Hear the president in his speech: "I want in particular to thank the honourable Raila Odinga for embracing national pain over his personal gain when we did the handshake. What is more and many do not know that is that he did this without demanding anything from me. And I want to say today that whatever the future holds, I look forward to working with him and all Kenyans to build a better, brighter, more united and prosperous Kenya, East Africa and Africa. Asante Jakom."
With next year's General Election fast approaching, this could be a ringing endorsement for man who has captured the imagination and dreams of nearly all Kisumu residents and indeed the entire Nyanza and Western region.
Raila has run for president in four elections and the region has always voted for him to a man. He first run in 1997 and came a distant fourth, then in 2007, 2013 and 2017.
In the 2002 elections, Raila played the kingmaker with his "Kibaki tosha" remarks and Mwai Kibaki went to claim a landslide victory against Kanu's Uhuru Kenyatta.
Earlier in the year, Raila's elder brother said he was not waiting for any endorsement and will not endorse anyone. Same sentiments came from Deputy President William Ruto, who is also eyeing the presidency.
On Tuesday, President Kenyatta made a passionate appeal to political leaders to put aside their personal interests and look at the bigger picture in securing the country's future.
He then immediately showered Raila with the praises and vowed to work with him for a united Kenya.
In the past, President Kenyatta has said he would not endorse anyone for State House in 2022, but his choice would surprise everyone. Could the surprise be in his Kisumu declaration? Well, it remains to be seen, but ODM secretary general Edwin Sifuna acknowledged the president's kind words for Raila.
"The president just reiterated what we have always said. That Raila got into the handshake with a clean heart not thinking or asking for personal benefit. In fact, for the Raila I know, the gratitude the president expressed, is sufficient," Sifuna told The Standard yesterday.
He, however, was quick to add that it does not amount to endorsement for next year's presidential elections.
For the National Assembly majority whip Emmanuel Wangwe, the president's statements were befitting for the ODM leader. "The accolades given to the former Prime Minister Raila Odinga are well deserved, seeing that after the March 2018 handshake, we have had political stability. This has allowed the Jubilee administration to successfully roll out its development agenda," said Wangwe.
Raila is yet to declare his interest in the presidency, insisting that he will make his decision known after the BBI vote. But his brother Oburu Oginga said: "Some leaders from Western region want Raila to retire from politics and endorse them. Raila can't retire just yet since he has not ascended to the seat he has been fighting for. You can't leave the presidency to non-starters."
He added: "Raila will only give the presidency to any of the Luhya leaders after he has served his term."
The window for presidential aspirants seeking to run on a ODM ticket was extended after it emerged that only governors Wycliffe Oparanya (Kakamega) and his Mombasa counterpart Hassan Joho had submitted their papers by close of the deadline, March 31st.