Username Investment Ltd. Wins the Coveted 2019 Diaspora Market Land Selling Company Award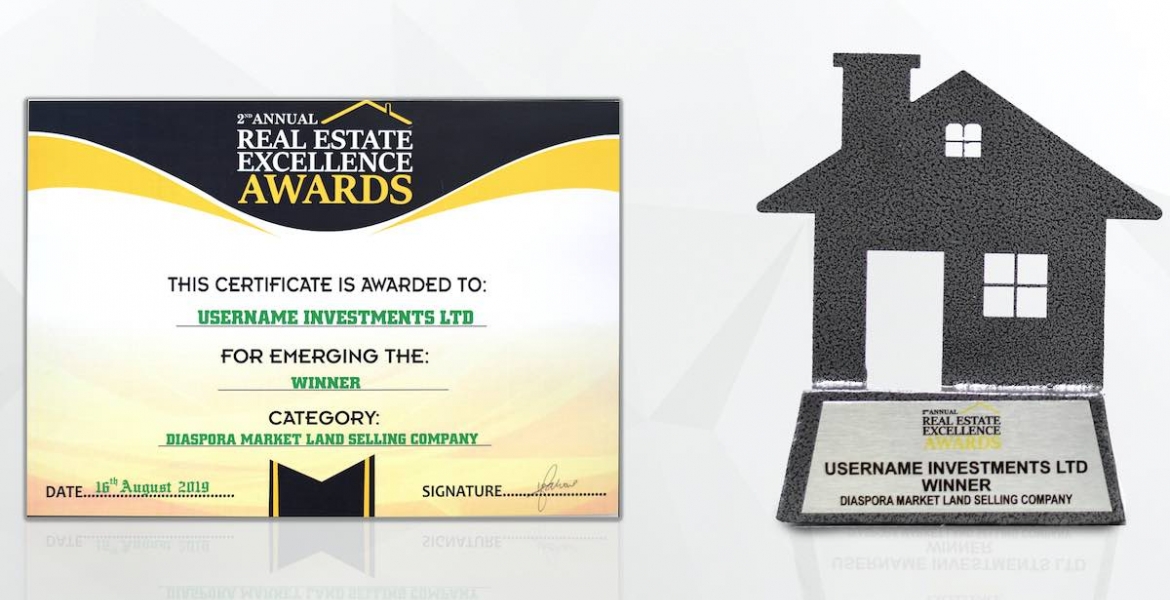 Username Investment Ltd. won the coveted 2019 Diaspora Market Land Selling Company Award during the recently held Real Estate Excellence Awards Gala Dinner at Movenpick Hotel in Westlands, Nairobi. The award targeted a real estate company that has been outstanding in positively impacting Kenyans living in the diaspora through provision of affordable investment opportunities back home.  
This was the second edition of the awards organized annually by Digital Events. The event brought together various players and stakeholders in the real estate sector ranging from land agents, property developers, property consultants and real estate related suppliers. The unique role played by the diverse companies was uniquely recognized during the Gala Dinner.
"We are honoured to receive this prestigious award a few days after Username Investments team came back to the country from the UK and USA after 3 months of reaching out to Kenyans living and working in various Cities and States with affordable real estate investment opportunities back home", Reuben Kimani, CEO, Username Investment Ltd said while receiving the award.
Reuben continued by noting that, "Kenyans living in the diaspora often do not have sufficient information on investment opportunities in Kenya. At Username, we recognize this and other challenges that they face while trying to make the best and right decision. We have therefore taken it upon ourselves to facilitate the availability of this information on investment opportunities to enable Kenyans living abroad become landowners in a hassle-free way. So far, we have successfully helped over 8,000 clients living in Kenya and spread across the US, Europe, Asia, Middle East and the rest of Africa to acquire land".
In the first five months of 2019, diaspora remittances stood at KSh118.9 billion, a 3.8 per cent increase on the same period in 2018. The remittance makes the country's largest source of foreign exchange earnings. Most of the funds are sent to relatives with real estate, food, education, health consuming the lion's share. For real estate, the monies are sent to invest in land that can be turned into a home upon retirement. Diaspora investors look out for trusted real estate companies that they can invest with and receive genuine title deeds. Username Investments has stood out for having a record of delivering over 6,000 title deeds to investors living in Kenya and abroad.
"We have an innovative website that allows Kenyans living in the country and in the diaspora to purchase land online. The website gives investors an opportunity to navigate through our various projects and select the most suitable property. We also assign a dedicated Relationship Manager who walks with our clients through their investment journey with us and take them to site visits for free when they come to the country." Reuben concluded.
In conclusion, Reuben encouraged Kenyans living abroad to consider investing back home with the help of trusted real estate Companies that follow the due legal process of property acquisition. He also urged them to ensure they receive a title deed at the end of their investment by having it either shipped to them via their preferred courier service or writing to the investment Company and having it given to their lawyer or a family member.
On the same event, Username Investments also won The 2019 Land Agent of the Year for the unique role played in offering affordable land with prices starting from as low as Ksh 199,000. These properties are value-added with a perimeter fence, estate gate, graded access roads, water and electricity making them ready for immediate development. Title deeds are also issued within 6 months upon completion of payment.
About Username Investment Limited
Username Investment Ltd. is an award-winning real estate development and Investment Company. Among the awards won include; Top 100 Mid-sized Companies Award, Real Estate SME of the Year, Best Customer Care on Social Media Award, Best Land and Investment Company and Best New Entrant in Customer Service Innovation Awards. The main aim of the company is to help current and future generations of Kenyans actualize their dream of owning a home by offering them affordable real estate investment choices. Username is gearing up towards their goal of becoming the real estate investment company of choice in the country and the entire region.
For more information, please contact Maureen Mutahi, Marketing Manager on maureenmutahi@username.co.ke
Mount Kenya University bids farewell to its founding VC Prof. Stanley Waudo
Mount Kenya University (MKU) has bid farewell to its founding Vice chancellor Prof. Stanley Waudo after serving at the institution for the last 11 years.
Prof. Waudo joined MKU in May 2008 when he left Kenyatta University to become the pioneer vice-chancellor of the newly founded institution in Thika.
Prior to joining Kenyatta University, he worked as a graduate assistant at Iowa State University in the US while doing his masters and doctorate degrees from 1980 to 1984.
Giving their remarks to the outgoing VC,leaders who spoke at the ceremony praised Waudo for his efforts in steering the university from a mere Technical college in Thika to a greater University in East Africa.
The university council chairman Prof. David Serem and the acting VC Prof. Peter Wanderi applauded Prof. Waudo as man with a vision, humble and a dedicated Kenyan.
The university's founder Dr. Simon Gicharu recalled his early moments with Prof. Waudo and how he steered MKU from the time the university was granted a letter of interim authority in 2008 by the Commission for University Education.
In his remarks after 11 years as VC, Prof. Waudo listed major growth in student population, creation of campuses, infrastructural development and improved quality of education as some of his achievements.
He cited the establishment of seven campuses and four teaching centres across the country, all approved by the Commission for University Education (CUE) as major milestones.
The academician said MKU has sent to the job market 95,880 graduates, adding that the university has been a leading employer, with a current workforce of 1,009 teaching, non-teaching, technical and library staff. The university started off with 120 staff.
He holds a PhD in plant pathology and nematology, and joined Kenyatta University in 1985 when he started off as a lecturer and rose through the ranks to a full professor.
During the event, the university launched college of graduate studies and research which will coordinate research driven graduate training, innovation activities and outreach activities.
Mount Kenya University has also commenced the process of clearing arrears that it owes to all part time lecturers who teaches at the University. The accrued arrears which run into million will be paid in bits for the different schools where the management intends to clear by june 2020.
Speaking during the ceremony, Gicharu said the move is aimed at clearing the debt as part of streamlining operations at the university.
So far the Ksh.200 million has been set aside to pay the first bunch of part time lecturers who taught at different schools,some will be paid upto December this year while the rest will be paid in three phases until June next year.
The founder indicated that the arrears were accrued due to fall in revenue after reforms by Dr. Fred Matiang'i, who was at that time the Education CS, which saw reduction in the number of students that the university admitted.
Video Of The Day: | THE MEKATILILI LEGACY | Mekatilili Wa Menza contributed to Kenya's independence struggle
DCI summons 11 over Sh38bn Itare Dam scam
The Directorate of Criminal Investigations has summoned 11 people among them former directors of Rift Valley Water Works Development Agency ( RVWWDA) over graft in Sh38bn Itare Dam project.
Among those summoned to appear at the DCI headquarters on Kiambu Road on Monday to record statements over the multi-billion dam scam is Ms Lydia Ntimama, daughter of former Cabinet minister William ole Ntimama and several senior government officials.
In a statement released on Sunday afternoon, the DCI said: "The DCI is currently investigating allegations into the misappropriation of public funds in the construction of the Itare Dam. We have summoned the individuals to record statements on December 16."  
"The following listed suspects who are connected with the ongoing investigations are hereby compelled to report to the DCI Headquarters Serious Crime Block B on Monday December 16, 2019 without fail," the statement added.
Among those summoned include Christine Ndoigo, Chesaina Bartonjo, David Kinuthia, Julius Lamaoni, Nemuel Machuki, Ewoi Lochom, Samuel Kaaleng, all former directors of the Rift Valley Water Works Development Agency.
Others under probe are Engineer FK Kyengo, Barrack Amolo and David Yatich, all government officials in the Ministry of Water and Sanitation.
This comes a week after Water Cabinet Secretary Simon Chelugui was grilled by the DCI over the failed multi-billion dam projects in the Rift Valley.
According to sources, the questions mostly dwelt on advance payments made to broke Italian firm CMC di Ravenna by the Water ministry, even when it was clear that the contractor was already having problems delivering the Kimwarer and Arror dam projects. Ms Ndoigo, confirmed to the Nation that she had received the DCI summon.
"I have received the DCI summon and l am already on my way to Nairobi to record my statement tomorrow," she said.
Itare Dam, a flagship Jubilee administration water supply projects under Vision 2030, was supposed to yield 100,000 cubic metres of water per day.
Italian company, CMC di Ravenna, that was constructing the dam filed for bankruptcy in a court in Ravenna, Italy. The construction of the project that was to be completed in 2021.
According to the RVWWDA, the construction of mega dam projected to end the perennial problem of water shortage in the South Rift region by serving a population of 1 million people in Kuresoi, Molo, Njoro, Rongai and Nakuru Town, Kericho and Baringo counties.
On July 15, 2015, the National Treasury signed a loan agreement with Italian financiers BNP Paribas Fortis and Intesa Sanpaolo for the project's funding.
Taxpayers have paid Sh11 billion for the project, which stalled at just 30 per cent.
Thika Kisiiki village flood victims call on govt to relocate them
Hundreds of flood victims of Kisiiki village on the shores of Athi River, Thika East Sub County have called for government intervention to fast-track their relocation to plots it gave them in 2017.
The call comes amid floods that have ravaged the area leaving them homeless.  Over sixty households have been displaced after Athi River burst its banks.
The allocation of the plots to the farmers and fishermen was disrupted after some people went to court blocking the process claiming ownership of the land.
They have since been forced to continue living in the area despite experiencing floods each rainy season.
Get breaking news on your Mobile as-it-happens. SMS 'NEWS' to 20153

Thika East Deputy County Commissioner Thomas Sankei, however, refuted claims by the residents saying they refused to relocate despite the government setting aside some piece of land for the exercise.
He said the residents rely on the river water for irrigation and fishing, thus relocation would affect their livelihoods.
Thika West MP Patrick Wainaina promised to follow up the matter to its logical conclusion to ensure that all residents get some plots.
Tell Us What You Think