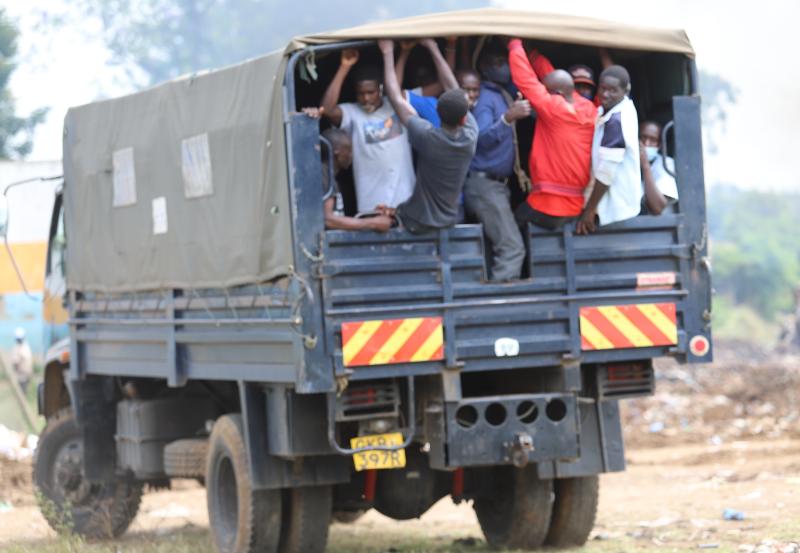 The situation is bad and Kenyans are very angry and many are hungry. It is their right to be angry at the government because there is a feeling it dropped the coronavirus ball and did not do enough to curb its spread. But did it drop the ball? Yes.
And did Kenyans pick up the ball? No. They kicked it around. They declined to listen to their inner voices even when they knew that the people they voted for have one job description: letting them down. It has been a year and several days since the first case of coronavirus was reported here. On that day in March 2020, there was gloom all over. Ironically, there was hope too. Kenyans were shaken; they were afraid because they did not know how they were going to protect themselves. The government too might have been shaken, but it sounded strong. And gave Kenyans hope. It made Kenyans hopeful — only that they were hoping against hope.
The Head of State spoke, and the nation listened. He assured his voters and their dependents that the situation will be managed, in all aspects, starting with the economy. A raft of mitigating measures was announced, and for a minute, people were happy — which is a rare thing.
Of course what followed was chaos, starting with police brutality that culminated in several deaths. The Head of State apologised. Very normal but rare for a well-cultured man whose good manners are felt more across the border than in his country where everything he does nowadays annoys Kenyans — the people who voted for him.
As the government embarked on a journey to safeguard Kenyans from the coronavirus by procuring safety equipment, things started falling apart. The falling apart might have come as news, but it was expected. Even by the mandarins in several State agencies and ministries because they knew they will mismanage everything in order to benefit.
The safety items were procured at stratospheric rates. Kenyans who got the tenders did not know how they secured the deals. The firms they owned were so new even to themselves that some officials did not know when they were formed considering that they got the tenders before they were registered.
Companies owned by Kenyans hitherto selling cereals had to start figuring out how to get medical equipment. Kenyans who were just taking a stroll in Industrial Area, ended up with tenders worth billions of shillings.
It was corruption at its best. Or worst. And the players and the beneficiaries were not foreigners. They are Kenyans. And some of them shout the loudest about graft. Everything about management of Covid-19 was messy while Kenyans were dying, and healthcare workers were wailing over poor working conditions, unmet promises and deaths of their colleagues who were exposed to the virus because of lack of protective equipment. The parental authority was blowing hot and cold as healthcare workers were pleading, and asking that they be given equipment to handle cases, and help flatten the curve.
Take a quick survey and help us improve our website!
Then there was the economy. Or whatever remained of it. A victim of unbridled greed and unchecked corruption in high and low places. Even before the pandemic hit, the economy was on life support. Tottering. Held together by Chinese and other expensive loans. And being sucked dry by corrupt politicians and their cronies.
There was a moment that Covid-19 infection rates were stable. Or rather not alarmingly high, and it was thought Kenya will flatten the curve. The economy was still bad, but Kenyans were hopeful that the people they voted for will make the right decisions and help them weather the coronavirus storm, after all, all countries were affected.
Then hell broke loose. Politicians started holding rallies and Kenyans were attending. The parental authority continued fumbling and bumbling, and Kenyans did their bit too. They started disregarding the protocols. They were angry and hungry. Some wanted the restrictions relaxed so they could sing, dance, drink and be merry. While the elected representatives were running around the country like headless chicken (and that is an insult to headless chicken) Kenyans were joining them and still crying about different sets of rules.
They wanted to be in the party of the politicians and be free and careless and reckless like them. They wanted to run around too, forgetting that in this Covid-19 war, they are on their own. Now we are here. Where death rates are high and infection rates even higher. The country is back to where it was in March 2020, or probably worse. The movement restrictions and partial lockdown that led to job losses, economic hardship and people not being able to make ends meet, are back.
Businesses that had started recovering have to start figuring out what to do next — in an economy in a worse state than it was before the pandemic broke. And once again, nay, as usual, Kenyans are angry. They are angry at everyone else except themselves. They have refused to acknowledge that they too had a part in the rigmarole that led to the current deathly situation.
-The writer is an editor at The Standard. @mqhlay